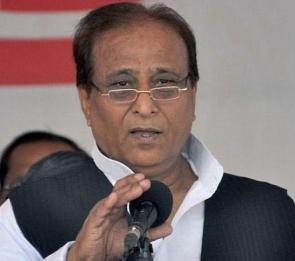 As controversy continues over senior Uttar Pradesh Minister Azam Khan keeping away from its Agra meet, Samajwadi Party on Friday said no one can "blackmail" the party as nobody has the stature which supremo Mulayam Singh Yadav enjoys among the Muslim community.
SP National General Secretary Ramgopal Yadav said Muslims have a lot of faith in Mulayam Singh. "No one can blackmail us...as no one has the stature, which Mulayam enjoys among the Muslim community, which has undeterred faith in him," he told PTI.
He was asked about Azam Khan keeping away form the two-day national executive meet of the party. Khan had skipped the meet, as he was reportedly unhappy with his own government's handling of the riots that has claimed the lives of 40 persons.
Ramgopal's comments come a day after the SP supreme denied any rift with Khan, the SP's Muslim face, saying Khan can never be "upset" with him.
Asked about some Muslim organisations demanding the resignation of UP government over the Muzaffarnagar violence, he said, "Organisations which are demanding the dismissal of the Akhilesh Yadav government are professional ones...they can create a propaganda in media but not among the Muslims."
On the stand take by Darul-uloom-Deoband, Yadav said there were several groups there. "There are several groups there, but the biggest one is with us," he claimed.
When asked about the possibility of drift in the Muslim vote bank in the wake of Muzaffarnagar violence, Ramgopal said the SP never considered them as "votebank".
"We never considered Muslims as a vote bank..their socio-economic condition is not good and the SP has always tried to rake up their issues and tried to get them redressed. And this is what parties like the BJP term it as Muslim appeasement".
About the BJP, the SP leader said that its traditional vote bank has drifted to other parties including SP due to which it was allegedly trying to flare communalise passion in the country with the sole objective of taking political mileage.
On the Congress, Ramgopal said it never wanted the SP to flourish and expand its base. "SP's loss is Congress gain...They know it very well and its internal agenda is to damage our party", he said.
On the Muzaffarnagar violence, Ramgopal said it was controlled within two days and the situation would normalize in the next four days.
Asked about BJP MLA Sangeet Som, who dared the SP government to arrest him after his name figured in Muzaffarnagar violence, Ramgopal said he need not to worry as he would not only be arrested but would find it difficult to come out of jail.
On complaints from the party cadre that bureaucrats did not pay heed to leaders, Yadav said their "genuine" recommendations would be taken care of. "Many a times our leaders make undue recommendations and officers do not pay heed to them after which they indulge in propaganda. If an officer does not give any undue favour, he is not wrong...Some 'dalal-type' party netas, who cannot get their work done are creating propaganda," he said.
About the two-day national executive meet, Ramgopal said party workers have been asked to ensure victory of declared nominees and warned strict action against those MLAs and office bearers, who were working against party candidates. "Strict action will be taken against legislators and office bearers, who do not support party candidates and work against them," he said.
He said the party's objective was to form a non-BJP and non-Congress government at the Centre and for that winning a maximum number of seats was a must.
About the number of seats the party is expecting in Uttar Pradesh, Ramgopal said he would be able to predict that only after other parties declare their candidates.