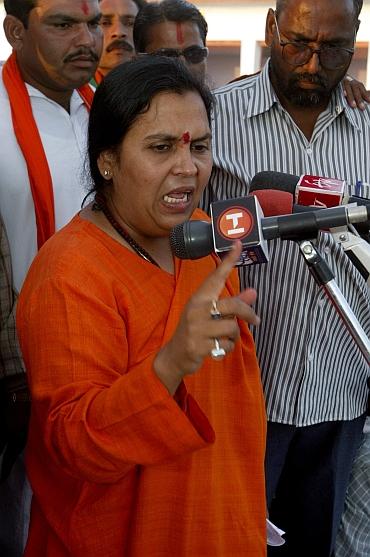 High drama unfolded in front of Uttar Pradesh assembly on Wednesday with Bharatiya Janata Party leaders and workers, led by Uma Bharti, stalling the possible arrest of BJP MLA Sangeet Som, against whom an arrest warrant has been issued for his alleged role in inciting Muzaffarnagar riots.
"Our MLAs (state legislators) will not oppose their arrest, but the government is responsible for what will follow. I am warning them," she said.
Bharti told reporters that the government was going back on its word as it was decided that no action would be taken without investigation.
The BJP leader said that she wanted to tell Akhilesh Yadav government that the party was ready to co-operate, but its MLAs should not be targeted without proper investigation. "So far no investigation has been done...If BJP MLAs are facing charges then even Azam Khan is also facing charges," she alleged. She alleged that there were preparations to arrest BJP MLAs.
"To appease a specific community, the SP wants to target us. If arrest is made today then the government will be responsible for the fallout," she said.
Bharti said, "If any MLA is arrested then all the legislators would court arrest and fight on the streets."
On being asked about the police's claim of evidences against him, Som said, "How they completed the investigation in one day...they are lying." The BJP workers escorted the legislator to the party's state office.
A large number of police was deployed in front of the Vidhan Sabha gate giving hint that Som could be arrested, sources said.
Taking the hint, a large number of BJP workers and leaders assembled at the gate and stalled the process escorting Som safely to the party office, which is opposite to the Assembly. Earlier Som alleged that the government was giving a wrong message and taking one-sided action. "If BJP MLAs are responsible, then even Cabinet minister Azam Khan is also responsible," he alleged. "We are ready to struggle for the society and religion," Som said.