If you plan to step out on Mumbai roads this evening -- in your car, on your bike, in a taxi, bus or autorickshaw -- here is a piece of information you can use: over 100,000 men and women are going to be out there blocking traffic at 40 odd spots between 1600 and 2100 IST.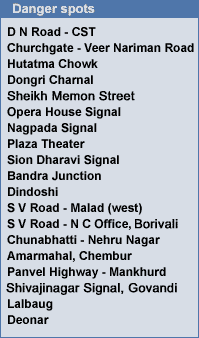 And to make matters worse, Bahujan Samaj Party president Mayawati will hold a rally at Shivaji Park in the evening. Thousands are expected to come.
Over half-a-dozen hawkers' unions have threatened to disrupt road traffic all over the city (see box) on Friday evening to protest against the lack of clarity in the government's hawking zone policy and high fees and penalties.
There are more than 100,000 men and women registered with these organisations. But the organisers of the protest believe that hawkers not registered with any organisation will join in too.
The Mumbai Hawkers' Union,  Lohia Vichar Manch and Azad Hawkers' Union are among the unions taking part in the protest.
Mumbai Hawkers' Union president Sharad Rao said: "Approximately 100,000 hawkers will participate in this movement to stop the city's traffic at 40 odd spots. It will be for a small period... it won't create much problem for the common man."
The small period Rao has in mind -- 1600 to 2100 IST -- is the peak evening rush hour.
Are the authorities worried?
Deputy Commissioner (traffic) Manoj Lohiya said: "We are expecting traffic problems during this period [1600 to 1900 IST]. We will try and regulate traffic. At some important traffic junctions, bigger traffic jams are possible. We are not going for major traffic diversions, only a few localised diversions depending on the immediate situation."
Joint Commissioner of Police (law and order) Ahmed Javed told rediff.com: "We are making arrangements to deal with the situation. We will not allow anyone to disturb traffic movement in the city. If anyone tries to disturb traffic movement  forcibly we will take action against them. We will deploy our forces at places where the unions are planning to stop traffic."