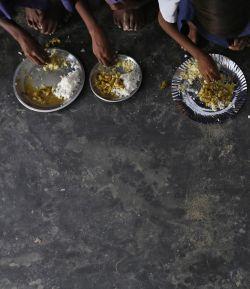 Alert students and a cook saved their hostel inmates from consuming poisonous food by facilitating its disposal after they saw a suspended panchayat official allegedly mixing some harmful substance in it.
Three students and the cook of Palaspani tribal boys hostel in Madhya Pradesh's Betul district saw suspended panchayat secretary Bhajansingh Marskole allegedly mixing some poisonous substance in the water boiled for cooking Sunday evening, police said.
Bhajansingh, in order to settle scores with the hostel watchman, allegedly mixed some poisonous substance in the water boiled for cooking pulses in the hostel when the latter was busy in some other work, Inspector General Ajay Sharma told PTI today.
As the pungent smell spread in the room, the students and the cook alerted hostel superintendent Vijay Kumar Salve about it following which the entire food material was disposed of after collecting its samples in the presence of police.
Later, police sent the seized sample to a forensic science laboratory in Sagar for testing and on the complaint of Salve booked a case under sections 307, 294 and 506 of the IPC against the accused, who is absconding. Efforts are on nab him, the IG added.
Salve said that the alertness of the students- Sarmesh Kasdekar, Sagar Salve and Raja - and the cook saved the lives of the many inmates of the hostel and they should be rewarded for their act.
The 50-seater tribal boys hostel, run by the government for the students studying from first to eighth standard, is situated in the Bhainsdehi tehsil, about 80 kms from the district headquarters, and had nearly 34 inmates at the time of incident.
Nearly 23 school children in Bihar were killed earlier this month after they were served suspected poisonous food under the midday meal scheme.
Photograph: Reuters