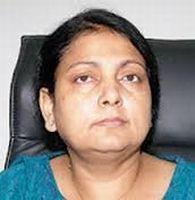 Bihar minister Parween Amanullah was on Thursday attacked and held up for some time by a mob in Vaishali district which was agitating over the midday meal tragedy in the state.
Amanullah, who is the minister for social welfare, was on her way to Muzaffarpur from Patna when the protesters, who had blockaded National Highway 77 near Rai Birendra College, about 5km from Hajipur town, pelted her car with stones, forcing it to halt.
"I was stopped by the mob for nearly 15 minutes before police came and escorted my car to safety... Stones hit my car while I was sitting inside," Amanullah told PTI.
The minister said she cancelled her programme and returned to Patna after the incident.
Vaishali SP Suresh Chaudhary confirmed the incident.
The Bihar government has been under attack by opposition parties over the midday meal tragedy in Saran district which has claimed the lives of 23 children.
RJD, BJP and CPI had separately observed bandh in Saran on Wednesday.
Opposition parties have blamed the state government for the delay in rushing the victims to hospital after they were taken ill upon eating the meal.