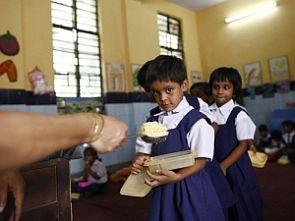 Eleven students fell ill after consuming mid-day meal served to them at a government primary school at Lusana village in Muzaffarnagar on Saturday.
The children were taken ill soon after eating the mid-day meal, which consisted of rice and 'kadhi', police said.

The students complained of nausea and began vomiting and were rushed to a nearby health centre, they said.
According to police, all students have been discharged from the health centre after treatment.
The matter would be probed by a team of education department, Additional Basic Shiksha Adhikari, Ved Prakash Gupta, said.
If found guilty, the required action would be initiated against the school staff, he said.