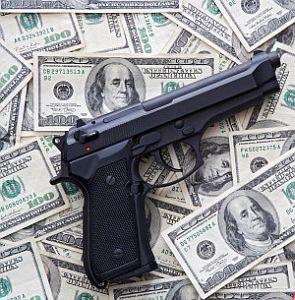 Yasin Bhatkal was 22 when he had his first tryst with terror. The same is the case of his boss Riyaz Bhatkal too. What motivates these operatives? Is it money or ideology?
Here is an instance to show how much money there is in terrorism. A senior officer with the Bangalore police told rediff.com that in 2008, Riyaz Bhatkal had entered into a deal with a builder called Dariyani. They purchased a plot in the Chembugudda area in Mangalore and had commenced an apartment project valued at Rs 10 crore. The builder was not aware of who Riyaz Bhatkal was and went along with the project, the police point out.
Riyaz, who had put in nearly Rs 3 crore into the project, was aware that the land they had picked up was under litigation. Investigations have shown that Riyaz regularly met with police officers and also officials to get the land cleared. The project however remained incomplete since Riyaz had to flee after his name started generating heat post the Bangalore and Surat serial blasts.
Investigations also show that a group such as the Indian Mujahideen would first recruit a cleric to carry out the brain-washing process. Two names which have cropped up under this list are that of Sabir Gangoli and Abu Basher. These clerics brainwash youth and lure them to join the IM. The target audience is always youth in the age group of 19 and 22.
There is a lot of luring that goes into this on the materialistic front. Those from the lower strata have been lured with branded clothes and shoes. They are also paid for specific operations depending on the magnitude of the attack -- this is usually between Rs 1 lakh to Rs 50 lakh also.
However at higher levels the money is bigger and operatives such as Riyaz or Yasin Bhatkal have at their disposal a huge chunk of cash. Yasin Bhatkal had even transferred $1,000 (about Rs 65,000) to his wife a few weeks before his arrest. Riyaz Bhatkal would have access to much more and the Mangalore building project is a testimony to the same.
An officer from Bangalore who has followed the Bhatkals very closely says that Riyaz has a lot of money and leads a very comfortable life in Pakistan today. The same was the case with Yasin. All this money is being provided to them by their handlers from Pakistan.
However, the Inter Services Intelligence or the Lashkar-e-Tayiba which primarily funds these operatives is more careful about spending money following the Indian Institute of Sciences attack in Bangalore. The operation cost was Rs 50 lakh and the handlers were very upset that only one person was killed. They also felt that the money had been misappropriated and today they are more careful while handing out money.
While the likes of Riyaz and Yasin have access to a lot of money, there are also some lower level operatives from where cash has been seized. Following the Surat blasts, the police raided the house of an operative called Muddasir from where they found Rs 11 lakh in cash. There were two raids that were conducted on operatives at Kolkata as well where the amount recovered was Rs 16 and Rs 20 lakh.
Police officials say that getting into the terror fold has a lot of angles to it. First it is always the adrenaline rush and then they continue to remain in this network as the money is very good. Ideology comes in much later and usually we have found only operatives above the age of 40 who seriously believe in ideology.