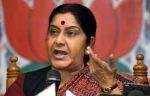 The Gujarat Samachar's Vadodara edition on Monday published a shocking story about MP Balkrishna alias Balu Shukla -- a Narendra Modi loyalist -- snooping around in Leader of Opposition in Lok Sabha Sushma Swaraj's chambers.
The report says that Shukla was in Delhi to meet Opposition leader Sushma Swaraj. However, Swaraj was not present in her office when Shukla went to meet her. He decided to wait till she returned, but after a while started going through the files kept on Swaraj's table.
As per an unnamed source in the report, the CCTV camera footage from Swaraj's office shows Shukla going through a file related to Nitin Gadkari -- the former president of the Bharatiya Janta Party. Shukla allegedly took three pages from the file and left the room.
Balu Shukla, however, did not realise that the CCTV installed in the chamber of the Opposition leader was recording his mischief.
A livid Sushma Swaraj reportedly called up Balu Shukla when she got to know of the incident and reprimanded him. She even lodged a complaint with Gujarat Chief Minister Narendra Modi.
The report also claims that Modi lambasted Shukla for his actions.
Modi has been toiling hard to maintain his dignity and decorum before the national media and establishment in New Delhi, but his colleague from Gujarat has created a huge embarrassment for him.
When rediff.com approached Shukla for his comment on the incident, he completely denied it. "Nothing like that has happened," he said.