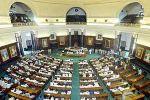 With the issue of safety and security of women taking precedence on International Women's Day, the demand for early passage of the women's reservation bill appeared to have taken a backseat in Lok Sabha.
Only two parties, the Communist Party of India-Marxist and the Dravida Munnetra Kazhagam, made a strong plea for passage of the legislation to provide for 33 per cent quota to women in Lok Sabha and state assemblies as issues of safety and security dominated an impromptu debate in the wake of the Delhi gang-rape incident.
Cutting across party lines, the MPs, mostly women, sought stringent laws to check violence against women in every form and earmarking time every session to discuss their problems.
In the two-hour-long debate, they wanted a strong message to be sent to the nation to end systemic oppression of women by changing the societal mindset.
Taking the lead, Speaker Meira Kumar said, "While the government is taking all possible measures to prevent violence against women, there is a need for a change in the mindset of men to remove this evil from our society.
"Let us on this day re-dedicate ourselves collectively to work steadfastly towards achieving an equal and humane environment for women."
Leader of Opposition Sushma Swaraj said women remained unsafe before and after birth -- falling victims to female foeticide and rape.
Maintaining that most women felt unsafe after dark in Delhi, she said this situation was also true for many parts of the country. "The Centre, the states and all our institutions must collectively take steps to make the environment safe and secure for women."
Intervening in the discussion, Women and Child Development Minister Krishna Tirath said there was need to impress upon the male-dominated society that "'No Girl, No World' is a fact and therefore there was need to change the mindset."
In her concluding remarks, the Speaker said there should be at least one discussion on women's issues every session to change the societal mindset towards women, acceding to a demand raised by several members.
"We must resolve to implement legislations for safety, security, welfare and empowerment of women. We also need to keep a close watch on how those laws are implemented," she said.
Tirath said the government has decided to launch a scheme called "Saksham" to empower adolescent boys by educating them on gender sensitivity and moral behaviour.
Saksham aims to target young boys in the 10-18 age group for their holistic development by giving lessons in gender sensitivity and inculcating in them respect for women.
Tirath said this year should be dedicated for the cause of women's safety and security.
Sushmita Bauri (CPI-M) and Helen Davidson (DMK) made a strong plea for passage of the women's reservation bill in the Lok Sabha in the current session itself. The measure has already been adopted in the Rajya Sabha.
Pointing to what she called "grey areas" relating to laws against anti-women crimes, Congress member Girija Vyas sought new laws and changes in several of them to tackle problems.
Seeking the setting up of a parliamentary committee to tackle these 'grey areas', she said action should be taken on problems like declaring of women in rural areas as 'witches' and killing them.
The committee can also go into the problems faced by women sent abroad in the garb of marriage, the welfare of old or diseased prostitutes and their children or the fate of women languishing in prisons, Vyas said.
Expressing anguish over the growing instances of rape and violence against women, Sharad Yadav (Janata Dal-United) said, "In no other country are there incidents of rape of girls of two to four years of age." He said the most exploited were women belonging to the poorer strata.
Harsimrat Kaur (Shiromani Akali Dal) wanted earmarking of two days in every session to discuss women's problems to keep the issues in focus, a demand that was supported by several other members.
Baliram (Bahujan Samaj Party) wanted stringent action against growing instances of female foeticide.
Kakoli Ghosh Dastidar (Trinamool) asserted that collective conscience of the nation should be raised to end exploitation of women and to empower them, saying her party's government in West Bengal has introduced a scheme to provide for education of the BPL girl child.
She lamented that Millennium Development Goals like checking female foeticide or bringing down maternal mortality rate has not been achieved so far.
CPI leader Gurudas Dasgupta said though the Lok Sabha has a "dominating influence" of Meira Kumar, Sushma Swaraj and Sonia Gandhi, the country was having a male-dominated society with men calling the shots in every field.
Making a strong plea against employing cheer girls during IPL matches, Dasgupta said this should be stopped. He said women are being exploited in all spheres of life.
M Thambidurai (All India Anna Dravida Munnetra Kazhagam) wanted ample opportunities for women so as to empower them.
H D Deve Gowda (Janata Dal-Secular) expressed himself against obscene advertisements which, he said, were spoiling young minds. He wanted the government to take radical steps for women's welfare.
Mehboob Baig (National Conference) utilised the opportunity to plead for repeal of AFSPA from Jammu and Kashmir, alleging it was being misused by men in uniform.
Putul Kumari (IND) said there was a need to bring more women-oriented schemes in the country. She also wanted stringent laws to tackle the growing atrocities against women.