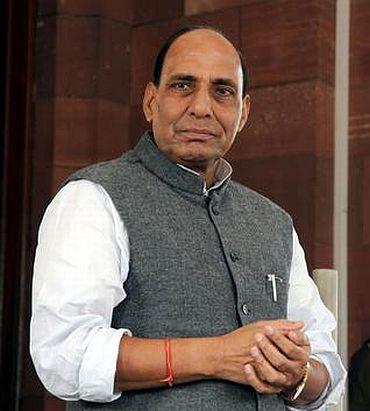 In a new twist to the tale, the Bharatiya Janta Party on Tuesday decided to appoint Rajnath Singh as the new party. Incumbent party president Nitin Gadkari has tendered his resignation.
Till this evening, current president Nitin Gadkari appeared unwilling to relinquish his claim an unprecedented second consecutive term, but a surging income tax investigation failed his chances.

As per reports a decision in this regard was taken during a meeting held at senior party leader Arun Jaitley's residence.

The meeting was attended by top brass of party including LK Advani, Sushma Swaraj, Venkaiah Naidu.
Growing opposition to the incumbent BJP president Nitin Gadkari probably forced the party to rethink on the issue.

A camp led by BJP patriarch L K Advani was against Gadkari's candidature after he was accused of financial impropriety.

In fact, the name of Sushma Swaraj was also doing the rounds but a consensus seemed to have emerged on the name of Rajnath as he acceptable to all factions, including the RSS.
Rajnath has been a former BJP president and has been considered to be one of the most successful of them all.

The BJP parliamentary board will meet on Wednesday and approve his name.


Earlier this week, Gadkari was summoned for questioning by income tax officials. He has asked for exemption till February 1 on the ground that he is busy with party work.
Today, income tax officials visited eight different locations in Mumbai linked to 24 different firms that invested in or did business with the Purti Group. Sources say the addresses listed for the firms were bogus, proving that they were ghost investors.