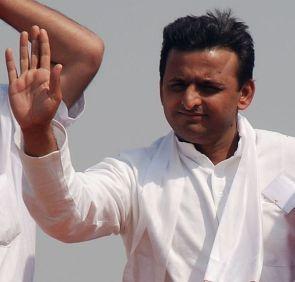 Violence has struck Uttar Pradesh again, this time in Meerut, where clashes between locals and the police has left 20 wounded.
The injured included 13 policemen of which six were from the Rapid Action Force. One of the injured was from among a group of people who defied the government's ban to hold a panchayat in Sardhana town.
The panchayat was held in violation of the official ban as well as section 144 CrPC that was clamped in the district.
Strangely, neither the local administration nor those sitting at the helm of affairs in Lucknow cared to enforce the ban on the gathering. Thousands converged from a dozen-odd villages to raise their voice against the slapping of National Security Act on BJP MLA Sangeet Som. The legislator was arrested recently for making provocative speeches that allegedly provoked the riots in Muzaffarnagar, leaving nearly 50 dead.
While pitched battles were fought between the police and the panchayat volunteers, comprising mainly of local Jats. Senior Samajwadi Party leader and MP Naresh Agarwal dismissed the incident as "any other happening." He even went to the extent of saying, "So what if one or two people get killed in such incidents of violence."
The panchayat continued for four hours, with speakers leaving no stone unturned to spew venom through their inflammatory utterances. All this while the cops who were deployed in huge numbers remained mute spectators and got into action only after the atmosphere stood completely vitiated.
Newly appointed Additional Director General (law and order) Mukul Goel sought to pass the buck on to the local officials. "The panchayat was banned and everyone was aware of the ban. Yet people continued to pour in. It was the duty of the officials on the ground to take a call on dealing with the situation," Goel told reporters in Lucknow.
SP supremo Mulayam Singh Yadav, who is believed to be doing much of the back-seat driving for his chief minister son Akhilesh Yadav, tried to give it another spin.
Addressing a function at the MumtazDegreeCollege in Lucknow on Sunday, he said, "Meerutki hinsa sarkar ke khilaf sazish ka nateeja hai.....Panchayat ke doshiyon ko saza milegi... Pashchimi Uttar Pradesh ke halaat theek naheen...Sardhana ke doshiyon ko saza milegi" (The violence in Meerut is the result of a comspiracy; those involved in it will be punished. The conditions in Western UP are not good. The culprits of Sardhana will not be spared).
He went on to add, "Musalmanon ko arakshan diya jayega... Har thane mein ek Muslim sipahi ki posting kee jayegi; firkaparast taqaton ke aage naheen jhukeinge. Akhilesh sarkar bahut achchha kaam kar rahi hai...." (Muslims will get reservation …We will soon post a Muslim constable in every police station of the state. We will not bow before communal forces…. Akhilesh government is doing a good job)
Notwithstanding his claims, UP has witnessed more than three dozen major and minor incidents of communal violence since the Akhilesh government rode to power in March 2012.
Nearly 100 people have lost their lives and even as of today, as many as 46,000 people were languishing in poorly run relief camps in and around Muzaffarnagar after being displaced from their homes.