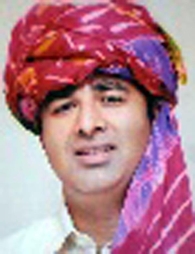 Bharatiya Janata Party Member of Legislative Assembly Sangeet Som, who was arrested for his alleged role in the Muzzafarnagar riots, was on Tuesday detained under the stringent National Security Act.

District Magistrate Kaushal Raj Sharma told PTI that he was detained under NSA by the district authorities. The warrant detaining him under the Act was served on him in Urai district jail.

A person can be detained under NSA for three months and he need not be produced in a court within 24 hours of his custody as required under the normal procedure. The maximum period of detention under NSA is 12 months.

Som, accused of uploading a fake video that played a role in provoking communal tension in Muzaffarnagar and making inflammatory speeches, was arrested in Meerut on September 21.

His arrest came a day after the Uttar Pradesh Police took into custody BJP MLA Suresh Rana in Lucknow on charges of making provocative speeches to incite riots in Muzaffarnagar.

A court in Muzaffarnagar had on Wednesday issued arrest warrants against 16 politicians and community
leaders including Som, Bahujan Samaj Party Member of Parliament Qadir Rana, BJP MLA Bhartendu Singh, BSP MLAs Noor Saleem and Maulana Jameel, Congress leader Saeeduzaman and Bharatiya Kisan Uniob chief Naresh Tikait.
They were wanted for violating prohibitory orders and provoking communal tension with inflammatory speeches in different meetings in the district, according to the police.
High drama had unfolded in front of UP assembly on Wednesday when BJP leaders and workers, led by Uma Bharati, protested against the possible arrest of party MLA Som.
Facing criticism over the failure to arrest several MLAs despite warrants being issued against them by a court in Muzaffarnagar, Inspector General, Law and Order, R K Vishwakarma had said that the arrests were being "deliberately avoided" as the session of state assembly was in progress.
Som was denied bail by a Muzaffarnagar court on Monday.
The communal clashes in Muzaffarnagar and adjoining areas claimed 49 lives and displaced over 40,000 people.
The BJP has lashed out at the Samajwadi Party government, alleging that its workers were being targeted and implicated in cases "without evidence".