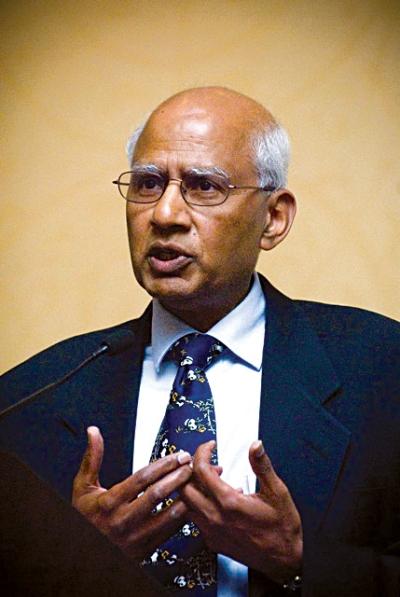 Mathuram Santosham has been conferred the Albert B Sabin Gold Medal for his pioneering role in the prevention of deadly H influenza type b (Hib) diseases, including paediatric bacterial meningitis and pneumonia. George Joseph reports
Santosham's landmark oral rehydration solution, known as Pedialyte, led to the promotion of ORS as the standard care for treating diarrheal dehydration, which has saved over 50 million lives since 1980. He also conducted trials to demonstrate the efficacy of rotavirus and pneumococcal conjugate vaccines.
"We are delighted to honour 'Santosham for his advancements against Hib diseases, which caused unnecessary suffering and death prior to his landmark findings and integral policy guidance," said Peter Hotez, president, Sabin Vaccine Institute, which sponsors the award.
"His unwavering commitment to scientific discovery and service to marginalised communities in every country mirrors the late Dr Sabin's core mission and has inspired countless other public health achievements," he added. The award commemorates the legacy of Dr Sabin, who developed the oral live virus polio vaccine that is widely heralded with contributing to the near eradication of polio worldwide.
"Santosham will stand among other giants who have received the Sabin Award, including those credited with eradicating polio and smallpox," the institute noted.
Santosham developed the Hib vaccine in partnership with the Navajo native American tribe, which ended the tremendous losses Navajo children were experiencing from pediatric bacterial meningitis and pneumonia. The vaccine is now the standard of care for children worldwide. It is estimated that by 2020, the Hib vaccine will have prevented 7 million deaths.
By the end of 2010 every poor country in the world either was using the vaccine or had decided to use the vaccine, except for India. The government of India has now made a decision to use the vaccine in its routine immunisation program in all of India by the end of 2015. It is already being used in 20 Indian states. Santosham is professor of international health and pediatrics, and the founder and director of the Center for American Indian Health at JohnsHopkinsUniversity in Baltimore, Maryland.
He said he went to Whiteriver, Arizona, in 1980 to work on a Johns Hopkins diarrheal diseases project among the White Mountain Apache people.
"When I arrived, I was shocked to find that children on the reservation were dying of diarrhoea just like in developing countries such as India," he said. "At that time the only treatment that was used for treatment of diarrhoea was IV fluids to rehydrate infants. However, many children on the White Mountain Apache reservation and developing countries like India could not reach hospitals on time and would die... After ORS was used on the reservation, the diarrhoea mortality came down dramatically."
Vellore, Tamil Nadu Dr Santosham obtained his MBBS from the Jawaharlal Institute of Post Graduate Medical Education and Research in Pondicherry in 1970. He is the recipient of numerous awards including the Thrasher Research Fund Award for Excellence in Research (1988), Maurice Hilleman Lecturer at CDC (2008), and the Bob Austrian Orator, for International Symposium on Pneumococcas and Pneumococcal Disease (2006).
He was also awarded the Indian Health Service Directors Award for Career Service in 2011.
Image: Mathuram Santosham