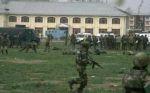 A diary recovered from the slain militants in the Bemina suicide attack has led to the arrest of a man, who had allegedly acted as a guide for the Pakistani militants to enter the city to carry out the attack.
Bashir Ahmad Mir was picked up by Special Operations Group of police hours after the attack on the CRPF camp at Bemina that left five jawans dead and several others injured.
Mir was taken into custody by the cops after tracking down his mobile number which was listed in the diary of the slain militants, intelligence sources said.
They said that Mir, a resident of Uri town along the Line of Control in Baramulla district, had guided the militants from the border town to the city.
Mir's questioning had led the investigators to the arrest of a Pakistani militant, involved in the attack, from Chattabal area of the city on Thursday.
Based on disclosures made by Mir, a team of SOG sleuths has been rushed to Uri town and more arrests are likely, the sources said.
Police has set up special nakas to keep a check on people leaving and entering Uri, they added.
Police officials, however, are tight lipped about the developments of the case.