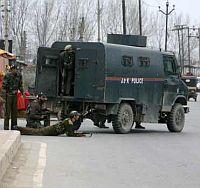 A Pakistani terrorist, suspected to be involved in the suicide attack on a Central Reserve Police Force camp in Srinagar, has been arrested from Chattabal area in the city.
On a tip off about presence of two terrorists in Chattabal, the special operation group cordoned off the area and nabbed Abu Talib, a resident of Multan, sources said.
The spot where he was picked up from is a little over a km from Bemina area where the terrorists struck on Wednesday, leaving five troopers dead and seven others injured.
The Pakistani terrorist opened fire on the SOG personnel with a pistol, but he was overpowered and arrested, the sources said.
The terrorist told police that he is a resident of Multan in Pakistan and was operating under the alias of Abu Talib, they said.
Sources said the breakthrough was achieved when the intelligence agencies traced a call made by the terrorist to his handlers in Pakistan soon after the attack on Wednesday.
Two suspected Pakistani terrorists, disguised as cricketers had on Wednesday stormed a CRPF camp in Srinagar in a 'fidayeen' (suicide) attack, the first major strike in the city in three years.