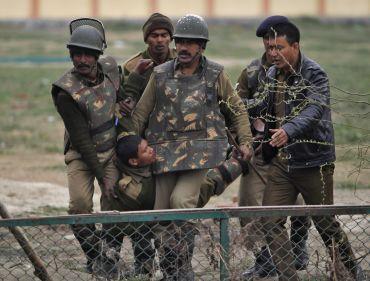 Family members of Central Reserve Police Force jawan Awadh Bihari Singh, who was killed in a suicide attack on a CRPF camp in Srinagar, today refused to perform his last rites until Uttar Pradesh Chief Minister Akhilesh Yadav visits them.

"My son laid down his life, but the chief minister did not have time to console the martyr's wife Uma," the slain jawan's father, Ram Kumar said.
He said he will not perform the last rites of his son until the chief minister visits them at Kuthaura Bujurg village. Singh's body had reached his native village late on Thursday night.
He was among the five jawans killed in the suicide attack by two suspected Pakistani terrorists on a CRPF camp in Bemina area of Srinagar on Wednesday.
The chief minister had yesyerday announced Rs 20 lakh financial assistance to the family of Singh. However, the jawan's family members were disappointed over none of the government's representative visiting them.
Some senior officials, including district magistrate, are present in the village.