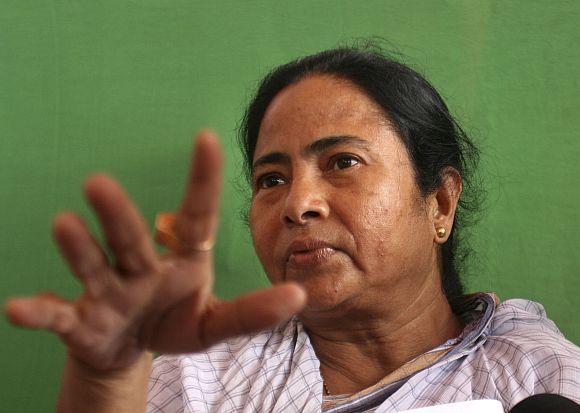 Apparently taking a dig at the Bharatiya Janata Party's prime ministerial candidate Narendra Modi over his 'Chai pe Charcha' initiative, Trinamool Congress supremo Mamata Banerjee on Saturday said her party does not believe in sitting at a tea shop just before the elections.
"We unlike the BJP don't believe in 'adda' sitting at a tea shop only during election time. Votes are being sought for BJP by showing tea," Banerjee said.
Addressing her party workers, she said Trinamool Congress's fight was against the BJP, the Congress and the Communist Party of India-Marxist in the upcoming Lok Sabha polls.
"The BJP, the Congress, the CPI-M -- our fight is against the three. Keep this in mind. We had created the Trinamool Congress against the misrule of the Congress," she said.
Claiming that unlike BJP, her party was always close to the people, the chief minister said, "I think that instead of sitting in a concrete jungle, it is better to be on the streets because one can get information about the people."
Banerjee said she wanted to see her party at the national level because the challenge for her was to restore the pride of Bengal outside the state. She, however, added, "I am not going anywhere from Bengal."
"We will have to fight and win against the CPI-M, the Congress and the BJP. We want Delhi and all other states to take pride in us," Banerjee said.
The party was also targeting states such as Uttar Pradesh, Bihar, Haryana, Tripura, Arunachal Pradesh, Manipur and Assam, she said.
Banerjee said she would go to Delhi on February 18 and then tour Tripura and Assam on February 25 and 26 respectively.