A bill on regulating chit funds passed by the erstwhile Left Front government which the present Trinamool Congress government has sought from the President to incorporate changes following the Saradha Group scam has been sent back to West Bengal Governor M K Narayanan.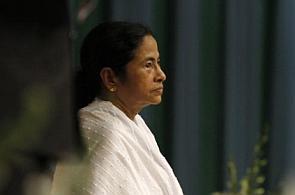 "It was returned to the Governor. The bill was in turn sent back to the state government by Raj Bhavan at 1:00 pm," Chief Minister Mamata Banerjee said.

She was referring to the West Bengal Protection of Depositors' Interest in Financial Institution Bill, which was passed unanimously in the Assembly in 2009
and sent for the president's assent.
"A new bill is ready," she said.
Earlier, the chief minister had said on April 22 that she had requested President Pranab Mukherjee to see that the bill passed by previous Left Front government seeking to restrict chitfund operations, was returned to enable the state government to incorporate more stringent provisions to deal with such illegal activities.
A special session of the assembly has been convened on April 29 with an eye to passing the new bill to give it more teeth following the defrauding of thousands of depositors allegedly by the Saradha Group.
Image
: West Bengal Chief Minister Mamata Banerjee.