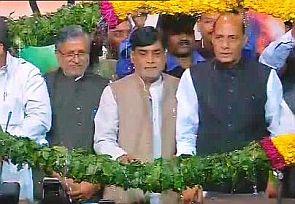 Ram Kripal Yadav, who resigned from the Rashtriya Janta Dal after being denied a ticket for the Lok Sabha polls, joined the Bharatiya Janata Party in New Delhi on Wednesday.
BJP president Rajnath Singh made the announcement at the party headquarters.
The former aide of RJD chief Lalu Prasad said: "Grateful to the BJP for accepting me into the party fold."
Vowing to work for the BJP as a grassroot worker, Yadav hit out at Lalu Prasad and accused the RJD chief of playing "dynasty politics".
"In the RJD, there is no social justice, there is justice only for the family," he said.
On Monday, Ram Kripal had announced that he would contest from Patliputra against Lalu Prasad's daughter Misa Bharti.
Ram Kripal revolted after Lalu Prasad decided to field his elder daughter Misa Bharti from the Patliputra seat as the RJD nominee.
Yadav on Saturday relented to the request of Misa Bharti to replace her as party candidate from Patliputra Lok Sabha seat, but said this should be announced by the RJD chief.
He also termed the visit of Misa Bharti as 'emotional attayachaar' and said it was a publicity stunt from the RJD.
"I have resigned from all the party posts. I am very grateful to all the party workers and the people of Patna for their respect," he said.
"I think, the party is deviating from its principles. It does not believe in the social justice. It believes family justice," he added