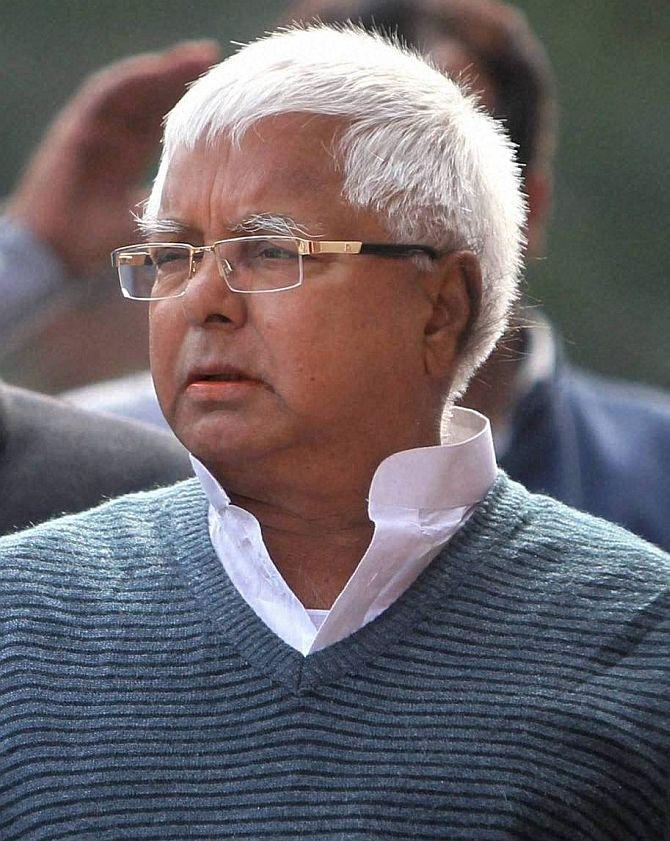 Upset over denial of ticket from the Patliputra Lok Sabha seat, Rashtriya Janata Dal leader Ram Kripal Yadav, a close aide of Lalu Prasad, quit from all party posts but said he was in the party "as of now".
Addressing a press conference two days after RJD named Lalu's daughter Misa Bharti as candidate from Patliputra in Bihar, he disputed his party chief's version that he had not expressed his inclination to contest from the seat.
Referring to Misa Bharti's visit to his home in New Delhi on Friday and staying put for five hours in a bid to persuade him, he said it was an attempt at "emotional blackmail".
Yadav, currently a Rajya Sabha member and a three-time Lok Sabha MP from Patna, said he was still in the party and has not quit Rajya Sabha.
He said the party, which was born to uphold the principles of social justice, now appeared to be interested in "family justice".
Misa had rushed to Delhi to meet Yadav following reports of the MP being upset over denial of ticket from Patliputra.
"I am very attached to the party and its workers. I think, the way Misa came to me yesterday, it was an 'emotional atyachar' or a 'political stunt' which was used against a simple person like me," Yadav told reporters.
Yadav said he decided to quit party posts with a "heavy heart" and his written resignation will follow.
He, however, refrained from commenting on the possibility of joining another party or contesting the Lok Sabha elections. "Other decisions will be taken later," Yadav said.
He said that despite conveying his willingness to fight the Lok Sabha elections long time back to his party national president, such a decision was taken.
"I wanted to fight Lok Sabha elections. This was the demand of the workers as well as that of the people. One year back, I had conveyed my feelings to the party national president. I had said even if 'Madam' becomes candidate, it will be ok with me. But the decision was taken. Despite that I did not utter a single word against the party," Yadav said.
Lalu Prasad has been grappling with dissent in the party ahead of the Lok Sabha election. Thirteen RJD MLAs had resigned from the party last month but later nine had attended the legislature party meeting.
Meanwhile, Misa Bharti made it clear that she will contest from the Patliputra seat in Patna as the RJD nominee.
Misa Bharti said she was deeply hurt by Ram Kripal Yadav's statement after she visited him at his home.
"I never expected such words from chcha (uncle). I tried my level best by saying that I will not contest if he did not want me to do so," Misa Bharti said.
She said that if Ram Kripalji was a mass leader why was he talking through the media. "He should use the party platform to express his views, grievances or complaints," she said.
RJD MLAs Bhai Virendra and Ramnand Yadav have demanded action against Ram Kripal Yadav for his anti-party activities.
With inputs from PTI
Image: RJD chief Lalu Prasad Yadav