Former Karnataka chief minister B S Yeddyurappa will be up against Geetha Shivrajkumar, the daughter-in-law of actor Dr Rajkumar and daughter of former chief minister S Bangarappa, in his hometown Shimoga. Vicky Nanjappa reports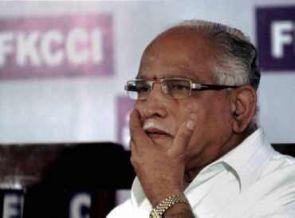 The Janata Dal-Secular has fielded a tough candidate to checkmate B S Yeddyurappa the former chief minister of Karnataka, who recently returned to the Bharatiya Janata Party.
Yeddyurappa who usually wins easily from his hometown Shimoga, will be up against Geetha Shivrajkumar, the daughter-in-law of actor Dr Rajkumar and daughter of former chief minister S Bangarappa.
It appears to be a tough fight for Yeddyurappa, but he is confident of wining.
The JD-S is pinning its hope on Geetha. She is considered to be a strong candidate and her family has a huge support base in the Shimoga constituency, which was also her father's bastion. Her association with Dr Rajkumar's family, who has an iconic status in Karnataka, is an added advantage.
However, it is yet to be seen if Dr Rajkumar's family, especially her husband Shivrajkumar, will campaign for her. The family has always stayed away from politics.
Both the JD-S and its candidate are expected to take advantage of Dr Rajkumar's goodwill in their campaign. The JD-S is also looking to ride on the success it had in the assembly elections in this constituency.
Geetha's brother, Madhu Bangarappa, said that the JD-S had won 3 of the 7 assembly constituencies in Shimoga. "Our survey has found that the people of the Shimoga parliamentary constituency need a member of the Bangarappa family to win the elections. The JD-S will win the seat without doubt and let us not forget that my father has a very strong support base here," he said.
In the 2008 assembly elections, the JD-S had tried to checkmate Yeddyurappa, who was running for the post of chief minister. The Samajwadi Party had fielded S Bangarappa in the Shikaripura constituency in Shimoga against Yeddyurappa. The JD-S had not fielded a candidate as they did not want to split Bangarappa's vote. Bangarappa also had a reputation of never losing an election and it was said that he would be the giant killer. However, Yeddyurappa managed to win that election easily.
The major drawback for Yeddurappa would be his exit and re-entry into the party. Many in his constituency say he has left them confused and you never know what could tick the man off once again. However Yeddyurappa is confident that the people in this constituency vote more for him than his party.
Yeddyurappa's biggest ammunition is that he is being pitched as a future union minister. He has been telling the people of Shimoga that there is no way the JD-S can come to power and voting for them is as good as wasting a vote. But if they vote for him they are voting for Narendra Modi (BJP's PM candidate) at the Centre and he will be made a union minister, which is good for the constituency.
This is an important constituency for the BJP. The BJP has decided to put up a united front and the meeting between former rivals Yeddyurappa and Eshwarappa is an indicator of that.
Eshwarappa and Yeddyurappa exchanged sweets and pleasantries, and the former was heard saying that he wished the latter would become a union minister. Yeddyurappa says people should forget about the differences he had with the party as the time had come to move on.
In 2009, Yeddyurappa's son B Y Raghavendra defeated the Congress by a narrow margin of 6000 votes. As per the 2009 census, the number of voters were 1,435,908 of which 715,272 were male and 720,636, female.
This constituency has a considerable population of Muslims, Scheduled Castes and Scheduled Tribes, Lingayats, and the Deevarus.
Image: B S Yeddyurappa the former chief minister of Karnataka