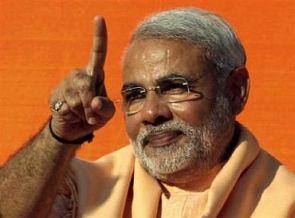 Accusing the Congress and third front of fuelling instability, Narendra Modi on Tuesday sought a clear-cut mandate, appealing to voters to give National Democratic Alliance at least 300 seats in the Lok Sabha polls for providing a strong and stable government at the Centre.
The BJP's prime ministerial candidate lashed out at Congress which has hinted at the possibility of supporting a secular front government at the Centre to keep BJP at bay, saying such forces were trying to "destablise the country".
"They said BJP won't get allies, many will leave but across the nation new friends have joined us. Congress said Modi was only in Gujarat but that too didn't cut ice. Now they are talking of unstable governments. They want instability", he said.
Addressing a rally, Modi said a strong and stable government can only fulfil the aspirations of the people and improve India's image at the international level.
"...I appeal to voters from Kashmir to Kanyakumari to elect more than 300 MPs from NDA and all from Uttar Pradesh. If there is a strong government at the Centre and if a new prime minister sits with the support of 300 MPs in Parliament, then the world will listen to him. We can also deliver on our promises to the people," he said.
BJP has fielded Modi from Varanasi to give BJP a boost to the party's prospects in Uttar Pradesh which gives 80 seats to the Lok Sabha. The party is also eying the maximum number of seats from UP and Bihar which together account for 120 seats.
Modi said neither the Congress nor the third front, SP or BSP are inclined to form the government and are out to stop BJP from coming to power by playing "tricks" and misleading people.
His comments assume significance in the backdrop of defence minister A K Antony hinting last week about the possibility of the formation of a fresh secular front to keep BJP out of power.
"I warn the Congress... they are praying for an unstable government at the Centre. This is not patriotism. Government should be stable irrespective of who forms it. We cannot let this country be destroyed," he said.
"When they are unable to do anything, they are out to sabotage the chances of others. Issue is not about Modi or BJP forming the government, the issue is about forming a stable government," he added.
Modi said contrary to what Congress had hoped, BJP not only won alliance partners across the country "but has stolen the march ahead".
"When BJP decided to make Modi its prime ministerial candidate, our Congress friends were bursting crackers, saying they will finish me easily. They also said as soon as Modi is declared as PM candidate, BJP will be decimated and Congress will embark on its victory march.
"They said BJP will not find any alliance partners. But we got new alliance partners from Kashmir to Kanyakumari," he said.
Taking a dig at the Congress, Modi said they chant the mantra of poverty every time elections approach and treat all 365 days of the year as April Fools' Day.
"Just as a student who is about to face exams begins to pray so that he can pass the test, the Congress begins chanting the mantra - 'poor, poor, poor' - so that the poor can save it. But the poor of the country have now recognised that for Congress, all 365 days of the year are April Fools' Day,"
Targeting Rahul Gandhi over his remark that "poverty is a state of mind", he said, "How can those born with golden spoon in their mouth know about the pain of poor.. Congress, third front and others have accepted their defeat and so are adopting measures to check formation of a stable government," he said.
Terming Congress manifesto as yet another 'Dhokha Patra' (document of falsehood), which repeated many unfulfilled promises made by them in the past decade, he urged the people of Uttar Pradesh to vote for BJP and give chance to a 'sevak' (dedicated worker) to serve the country.
Modi said that for a party that repeatedly claims to champion the cause of poor, the Congress-led government had "allowed" grain to rot in godowns and had not distributed it among the poor even when the Supreme Court asked it to do so.
He alleged that later on that rotten grain was sold to liquor manufacturers at throwaway prices.
Modi further charged that both farmers and soldiers had suffered during UPA's rule and said the apt slogan for the government seemed, "Mar (die) kisan, mar (jawan)"
Referring to the beheading of an Indian solider, Modi said that those who protect the country are not secure. Even farmers of the country feel that their future is not secure and have been forced to commit suicide.
Image: BJP prime ministerial candidate Narendra Modi