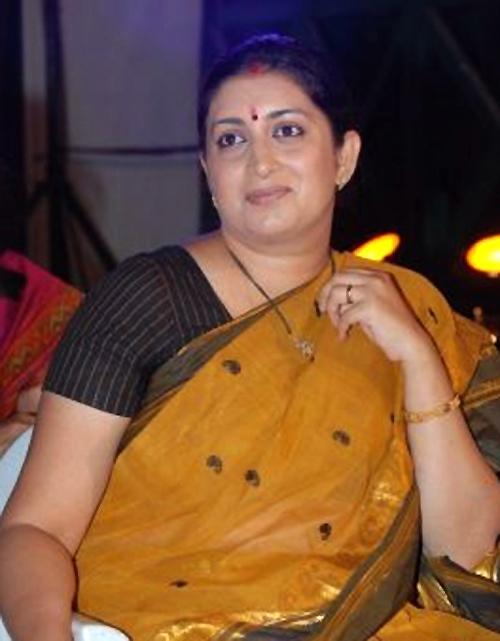 Ending suspense, the Bharatiya Janata Party has picked actor-turned-politician Smriti Irani to take on Congress Vice President Rahul Gandhi in Amethi.
It also nominated Supreme Court lawyer Ajay Aggarwal against Sonia Gandhi in Rae Bareli.

Follow latest election updates on Twitter: @RediffElections
Earlier, there was speculation that the party may field Uma Bharti from Rae Bareli. Sources said Bharti was not keen to leave her Jhansi seat to contest from Rae Bareli and there was no consensus on making her contest from two seats.
The decision on Irani and Aggarwal was taken at a meeting of the party's central election committee, where top BJP leaders Narendra Modi, L K Advani, Rajnath Singh and Arun Jaitley were present.
After the party announced her nomination, Irani said, "In the name of the 'family', the people of Amethi have been kept away from the fruits of development for too long. I think it is an extreme shame." She said that a change will brought about in the country under the leadership of Narendra Modi.
The party decided to field Bhairon Prasad Mishra from the Banda Lok Sabha seat in Uttar Pradesh.
New Justice Party President A C Shanmugam will contest from the Vellore parliamentary constituency in Tamil Nadu on BJP's lotus symbol, said party General Secretary J P Nadda.
The CEC also announced that its state General Secretary Karuappa M Muruganantham would contest from the Thanjavur Lok Sabha seat.
The BJP is also in advance talks with the Telugu Desam Party for an alliance in Andhra Pradesh, but a decision on the issue would be taken by Tuesday, party sources said.

Image: BJP leader Smriti Irani