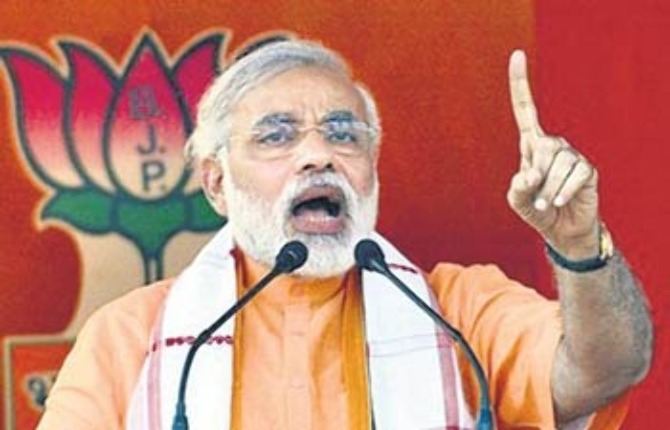 Keeping up the attack on Priyanka Gandhi, Narendra Modi gave another spin to her neech rajniti comments, saying that those allowing foodgrains to rot and the ones responsible for the Commonwealth Games scam were the ones indulging in neech rajniti.
Addressing a rally in Bihar, the Bharatiya Janata Party leader said, "What is neech rajniti? Grains rot and rats eat them. The Supreme Court says distribute it among the poor but Delhi government turns it down even though the poor children are starving…It then sells it to liquor manufacturers. This is neech rajniti and neech karm (low-level action)."
Complete Coverage: Elections 2014
"They made money from toilet papers in CWG... Pakistan beheads our soldiers and our government treats its prime minister to chicken biryani. This is low-level politics. Will you pardon it? Similarly, you looted coal meant for power generation... did it not amount to low level of politics?" he asked.
The BJP leader was unsparing in his criticism of the Congress, saying that it was in such a bad shape that it was finding it difficult to save Amethi from where Rahul Gandhi is seeking election for the third straight time. Modi said this election is for change and asked people to send maximum BJP candidates to Lok Sabha.
Wooing farmers, he said BJP has worked out a formula for the minimum support price for their grains which will ensure that they are not 'exploited' by the nexus of government officials and traders and get 50 per cent profit over their investment.
The Gujarat chief minister accused the Congress of hurling abuses at him every day apparently rattled by the rout awaiting them in the polls. "The Congress leaders get into a huddle every day to find new pejoratives to throw in order to stop me from coming to power," Modi said.
Claiming that the Congress was working on a single mission to stop him, he said, "It appears that the Congress is worried that a tea seller and a son of a poor family is challenging them and that's why it has been hatching one conspiracy after another to stop me at all costs. It is for you to decide what you want in the elections," he added.