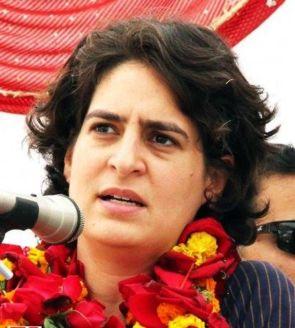 Hours after Narendra Modi lashed out at the Gandhi family, Priyanka Gandhi hit back at the Bharatiya Janata Party prime ministerial candidate, saying he had insulted her 'martyred' father Rajiv Gandhi during his speech in Amethi and accused him of indulging in 'low-level' politics.
Complete Coverage: Election 2014
In a statement, she said, "Inhone Amethi ki dharti pe mere shaheed pitaa ka apmaan kiya hai. Amethi ki janta is harkat ko kahbi maaf nahi karegi. Inki neech rajniti ka jawaab mere booth ke karyakartaa denge... Amethi ke ek ek booth se jawaab aayega... (They have insulted my martyred father on the soil of Amethi. People of Amethi will never forgive them for this act. Workers in Amethi will reply to their low-level politics. There will be reply from each of the booths).
Earlier during an election rally in support of BJP candidate Smriti Irani, Modi accused Congress of practicing politics of 'arrogance' and said Rajiv Gandhi, when he was Congress general secretary, had once publicly 'abused' and 'humiliated' the then Andhra Pradesh Chief Minister T Anjaiah at the airport. Anjaiah was chief minister between 1980 and 1982.