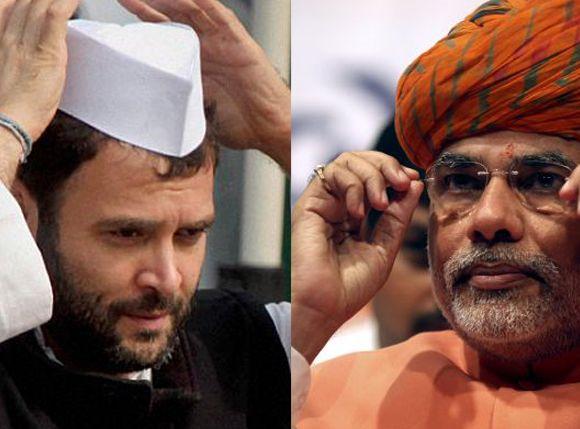 Rahul Gandhi on Wednesday hit out at Narendra Modi for dubbing his sister Priyanka's "neech rajniti" remark as an attack on his caste, saying people's actions are low, not their caste.
"Jaati nahi, karm neech hote hain (It is not caste but ones action that are low), he said when asked about the controversy triggered by Priyanka Gandhi's "neech rajniti" barb at Modi.
"Neech soch hoti hai, gusse ki soch hoti hai, krodh ki soch hoti hai (It is ideology which is low. There is an ideology of anger)," he said, adding his focus was that more and more people vote and women get empowered.
The BJP's prime ministerial candidate had on Tuesday played the caste card to counter Priyanka's attack and questioned whether belonging to a low caste was a crime.
"Is it a crime to be born in backward caste? Did I insult anyone despite being born in a backward caste? Such a dirty blame has been put on me," Modi had said.
Priyanka had on Monday hit out at Modi, saying he has insulted her "martyred" father Rajiv Gandhi during his speech in Amethi and accused BJP's prime ministerial candidate of indulging in "low-level" politics.
Earlier, Rahul reached Fursatganj airstrip and visited polling centres to witness the ongoing poll process.
Meanwhile, AAP's Kumar Vishwas, who is contesting from the seat, said Modi learnt "how to address the public after hearing his speeches" and expressed confidence that the broom will "clear" all the opposition against him in Amethi.
Talking to reporters, BJP candidate Smriti Irani said she was confident of her victory as people of Amethi had "understood that only BJP could ensure development".