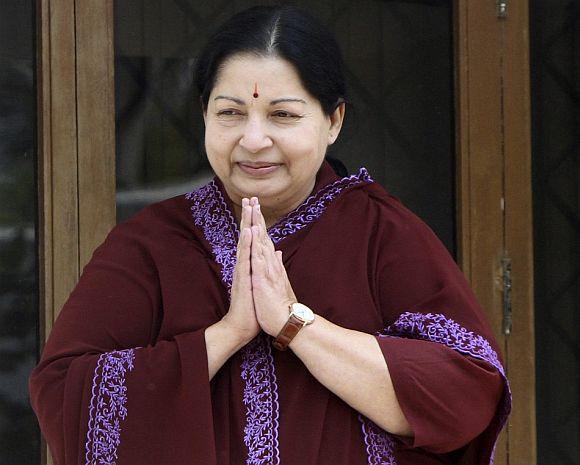 Tamil Nadu Chief Minister Jayalalithaa on Friday sought a direction from the Madras high court to quash the Election Commission's order, directing covering of pictures of leaves, which resembled the 'Two Leaves' symbol of her party ruling All India Anna Dravida Munetra Kazhagam on small buses plying in the city.
The EC had given the directive in a letter to the state Chief Electoral Officer but ruled there is no need to interfere with a similar symbol at MGR Memorial entrance. Jayalalithaa contended the reasons cited by the EC such as to prevent mobile propagation of the AIADMK symbol are unreasonable and unlawful. If such a decision is taken and if extended to logical limits, then use of various political party symbols such as hand, cycle and lantern should be prohibited from use.
She said the model code of conduct only prohibits 'abuse of official position' by the party in power for the 'purpose of the election campaign'. The petition was mentioned before Justice B Rajendran on Friday by senior counsel Muthukumaraswamy who, in turn, informed him that as per the Registry's latest notification, all matters pertaining to the 2014 LS polls should be heard by the First Bench headed by the acting Chief Justice.
The counsel mentioned it before acting Chief Justice Sathish K Agnihotri who asked him to file it in the registry which will be taken up on Monday for hearing.

Jayalalithaa submitted the Dravida Munetra Kazhagam's October 27, 2013 representation to the EC, alleging misuse of government machinery to propagate AIADMK by imprinting/painting Two Leaves symbol on the buses was out of 'sheer jealousy' and 'political reasons' due to popularity being gained by her and government by its success and seeing the tremendous response of the public to it.
She recalled the DMK had filed a miscellaneous petition on November 8, 2013 but Advocate General A L Somayaji said the paintings and the picture cannot be characterized as a political symbol, following which the matter was posted to November 26, 2013.
After four months, DMK has 'all of a sudden' filed a miscellaneous petition seeking an interim direction, directing the EC to seal the CM's photograph and imprintings on small buses, she said. She said when the petition came up on Thursday the EC had submitted a copy of a letter of clarification it had written to the CEO. The EC in its clarification concluded the imprints resemble AIADMK symbol without granting a chance for the party to be heard and 'prejudged' the paintings resemble the symbol.
She said these buses were launched much before the EC notification and the model code came into force. So, the EC has passed the order unlawfully and unreasonably. Therefore, it cannot be construed as being used for poll campaign by the AIADMK, she said and sought quashing of the March 10 EC order.