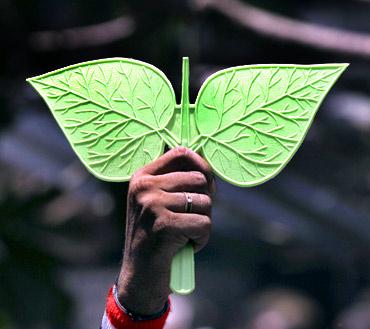 The Election Commission has directed covering the pictures of leaves, which resembled the Two Leaves symbol of the ruling All India Anna Dravida Munetra Kazhagam, on small buses plying in the city, but ruled that there was no need to interfere with the similar symbol at the entrance of the MGR Memorial in Chennai.
This has been conveyed in a letter to the state Chief Electoral Officer and a copy which was submitted in the Madras high court on Thursday during the hearing of a petition by the Dravida Munetra Kazhagam before Justice T Raja.
In his petition, DMK Treasurer M K Stalin had sought a direction to the EC to cover Chief Minister Jayalalithaa's photograph and AIADMK's 'Two Leaves' symbol printed on government property, including small buses and water bottles sold in the name of 'Amma mineral water'.
On March 10, the counsel for EC had submitted that photographs of Jayalalithaa had been concealed on the water bottles and government properties and sought two days time to take a decision on the MGR memorial.
During the resumed hearing today, senior counsel G Rajagopal, appearing for the EC, submitted the copy of the letter sent to the state CEO. The EC held that since the MGR memorial entrance was constructed in 2012 before the coming into force of Model Code of Conduct, there was no need to interfere with it. The EC also said the usage of word 'Amma' as part of the name of a scheme and not accompanied by any picture of a politician need not be objected to on government premises/property.
As the EC had clarified its position on the objections, there was no need of passing any orders by the court, he said. At this stage, senior counsel for petitioner R Viduthalai objected to the conclusion of EC with regard to MGR memorial and said public money was used for the purpose of propagating the symbol of ruling party on the government properties.
Advocate General A L Somayaji, who appeared for the government, objected to the EC's decision to cover the two sets of leaves on the small buses suitably.
The DMK also filed an additional affidavit stating that the petition would not have been filed if the registered symbol of AIADMK was exhibited by it at their party office or at the residence of their party cadres. It alleged that when the public money was "grossly misused and abused" by the AIADMK, the Election Commission had failed to exercise its powers and became mere spectator.
Justice Raja posted the matter to Monday for further hearing.