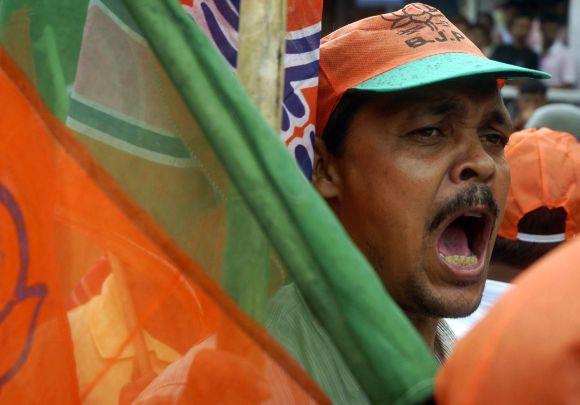 A pre-poll survey on Thursday projected Naredra Modi-led Bharatiya Janata Party sweeping Gujarat, Rajasthan and Karnataka and the party-led National Democratic Alliance giving a big jolt to ruling Congress-Nationalist Congress Party alliance in Maharashtra in the Lok Sabha elections.
The NDTV-Hansa Research survey, which released the electoral projections of 319 seats in 12 states today, says the All India Anna Dravida Munetra Kazhagam is projected to win 27 out of 39 Lok Sabha seats. It has predicted only 10 seats for Dravida Munetra Kazhagam. Out of 319 seats, the survey gives NDA 166, the United Progressive Alliance 52, others 85.
The survey predicted BJP-Shiv Sena alliance is likely to win 33 seats out of 48 seats while Congress' tally is projected to come down to 12-- a loss of 13 Lok Sabha seats from the 2009 position.
It also says Raj Thackarey's Maharashtra Navnirman Sena is likely to win one seat in the Lok Sabha polls. The poll projects 23 seats to the BJP in Gujarat's 26 Lok Sabha constituencies and 21 seats in Karnataka (out of a total 28 seats) by staging a comeback from the poor show in last year's assembly polls there. In Madhya Pradesh, the BJP is projected to sweep 24 out of 29 seats and the survey gives only four seats to the Congress in the BJP-ruled state.
According to the survey, BJP-LJP alliance in Bihar is likely to win 23 seats of 40 Lok Sabha seats. While the survey gives 11 seats to Congress-Rashtriya Janata Dal alliance, the ruling Janata Dal-United is projected to win just 5 Lok Sabha seats.
The Mamata Banerjee-led Trinamool Congress is projected to win 32 of 42 Lok Sabha seats in West Bengal. The Left parties are projected to get only 9 seats -- 6 less than the last time and Congress one. The survey also predicted emergence of the Aam Aadmi Party in Delhi after its stunning show in assembly polls. According to it, the Arvind Kejriwal led party is likely to win four of the seven seats in Delhi, the BJP 2 and the Congress one.
The survey says 42 per cent of Indians backed Narendra Modi as the leading choice for the next prime minister. Congress Vice President Rahul Gandhi emerged as the second choice with support of 27 per cent people.