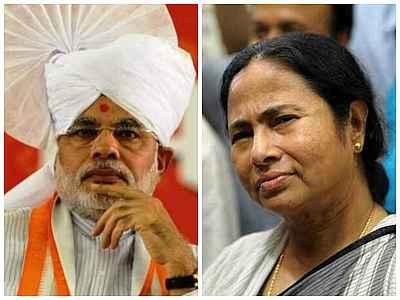 In the first such move involving Narendra Modi during the current poll campaign, the Election Commission on Monday ought the CD and transcript of his speech in West Bengal in which he raised questions on the sale price of a painting of Chief Minister Mamata Banerjee.
The state EC took suo motu cognisance of Modi's speech at the rally in Serampore yesterday for any violation of model code even as Banerjee hit back at him, saying the country will be "ruined" and plunge into darkness if he comes to power, a day after a furious Trinamool Congress slammed him as "Butcher of Gujarat".
"We have asked the district magistrate of Hooghly for the CD and transcript of Narendra Modi's speech at Serampore on Subnday", the OSD in CEO's office Amit Roy Chowdhury said in Kolkata.
Roy Chowdhury, however, said the commission was yet to receive any complaint on the issue and the EC's suo motu move was on the basis of what they had seen on various TV channels.
Appearing to allege that the painting was sold at an exorbitant price, Modi had said, "Your (Mamata) paintings used to be sold for Rs 4 lakh, Rs 8 lakh or Rs 15 lakh, but what is the reason that one of your paintings sold for Rs 1.80 crore. I respect art. But who was the person who bought the painting for Rs 1.80 crore".
Roy Chowdhury said the EC would thoroughly scan the speech to see if there was any violation of the model code of conduct.
The no-holds barred attack by Banerjee against the BJP prime ministerial candidate came even as the ruling TMC demanded a public apology from him for doubting the integrity of its leader over the sale of her painting.
TMC leader Mukul Roy earlier in the day said the party has written to the EC complaining that such "unsubstantiated" allegations are a violation of model code.
Rebutting the charge by her Gujarat counterpart that she had done more damage to West Bengal in 35 months of rule than the Left Front in 35 years, Banerjee also said that she did not need 'gyan' on development from the "architect of riots".
"If he comes to power, India will plunge into darkness. We do not need gyan (lecture) on development from the architect of riots," Banerjee said on Twitter in signs that TMC may not forge any post-poll alliance with BJP.
"The man who is being projected as PM candidate, if he comes to power, India will be ruined." she added.
BJP spokesperson Nirmala Sitharaman charged that TMC was "running away" from answering the questions. "It is in the interest of West Bengal that the question was asked. A rattled TMC is not knowing how to respond," she said.
Keeping up the attack on Narendra Modi, Mamata Banerjee on Monday alleged it would be a 'nightmarish' if the Gujarat Chief Minister became the PM and accused the media of giving such a projection.
"We are staring at a nightmarish dream as the person is being projected by you (media) as the PM of the country. If he becomes the PM, it is nation's misfortune and dark days will be ushered in," Banerjee told reporters at the makeshift state secretariat in Howrah.
"He is saying that Bengalis from Bangladesh will be packed off to Bangladesh. Why? Who is he to speak like that?
"Bangladesh is a neighbouring country. Will I have to go and pick up a fight with them on the issue? We have to strike a good relation," she said.
Stating that the people of Bengal could not be divided, she said he had the 'cheek' to create a divide between Bengalis and non-Bengalis.
The TMC chief also alleged Modi was trying to divide 'Bengalis and Hindustanis' and "he is saying all this on Bengal's soil and spreading hatred.
"We love Biharis like brothers and sisters. We offer Chatt puja. It is our government which has declared a holiday on Chhat puja. Do not try to import your brand of politics of caste and creed into Bengal."
"What does he want? After drenching Gujarat in a river of blood, does he want to drench Bengal in an ocean of blood," Banerjee said, adding "those who lead the nation have to love all the communities and take care of them.