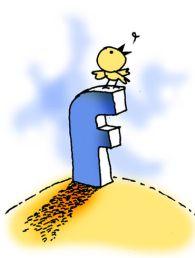 The Election Commission will for the first time keep a watch on the spending on social media by the political parties in the upcoming Lok Sabha elections.
Assistant Chief Electoral Officer in West Bengal Amitjyoti Bhattacharya on Tuesday said that the EC would keep a close vigil on social media like Wikipedia, Facebook, Twitter, YouTube and that spending on these platforms by political parties would be strictly monitored.
"Spending in social media will be strictly monitored by the poll panel," Bhattacharya said while addressing a media workshop without elaborating.
The workshop was attended by Chief Electoral Officer Sunil Gupta, Joint CEO Amit Roy Chowdhury apart from Bhattacharya.
Announcing steps to prevent malpractices in the coming election, the officials said that steps had been strengthened against paid news and violation of the Model Code of Conduct as the Lok Sabha election draws near.
They said that a nationwide drive had been undertaken to make various stakeholders aware of the steps and guidelines.
"For the first time such a nationwide drive has been undertaken by the EC to prevent electoral malpractices, educate media in particular and help its directives percolate to the grass root level to ensure free and fair poll," said Gupta.
Joint CEO Amit Roy Chowdhury, who is also in-charge of expenditure, said the EC would also set up state and district level Media Certification and Monitoring Committees at the state and district levels to keep a tab on expenses incurred by political parties and check instances of paid news in the print and electronic media.
"There will be a state-level 'Appelate Committee' to resolve disputes on issues relating to media certification," Roy Chowdhury said.
He said that the EC would deal with issues like media monitoring operation, certification committees, Model Code of Conduct and Sections of the Representation of the People Act, 1951 that deals with restrictions on publishing election-related materials.
Similar workshops had been conducted by the EC for the nine recognised political parties in the state, he added.
Bhattacharya said that the media houses should impose self-regulation on themselves and exercise caution while publishing news related to elections.
However, he pointed out that the EC's intention is preventive, rather than punitive.
He further said that the EC would take suo motu complaint based on media reports on violation of Model Code of Conduct during the election process and initiate action against erring political parties.
On paid news, the EC officials said that spending unaccounted money on paid news by political parities was not a healthy trend, either for political parties, governments or the economy.
Media should follow Section 126 of the Representation of the People Act, 1951 which "prohibits displaying any election matter by means, inter alia, of television or similar apparatus, during the period of 48 hours before the hour fixed for conclusion of poll in a constituency".
Illustration: Dominic Xavier