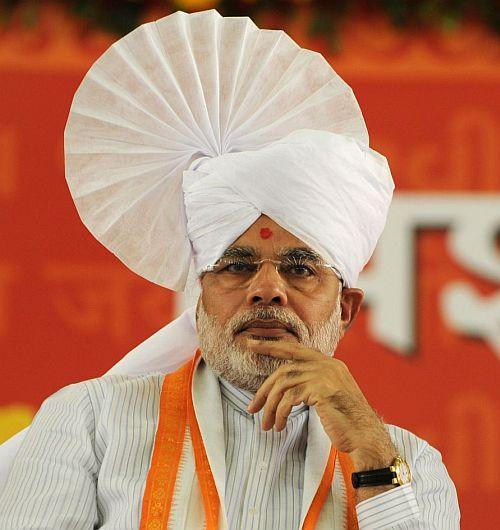 A day after the Bharatiya Janata Party released a CD targeting Robert Vadra and his alleged land deals, the Congress joined the CD war, releasing one showing BJP's prime ministerial candidate Narendra Modi in pictures with one Afroz Fatta, who was arrested in connection to a Rs 1,000 crore hawala racket and dared him to submit himself to an independent probe.
Complete Coverage: Election 2014
Claiming Fatta to be a 'well-known BJP supporter and a protege of Modi', party spokesman Randeep Surjewala said that he was arrested by the Enforcement Directorate of Ahmedabad and Surat, which unearthed a major hawala racket after carrying out a raid at his residence. Maintaining that the racket, according to ED, exceeds Rs 1,000 crore and can extend to Rs 5,000 crore and the transaction of underworld money through the hawala route is suspected, Surjewala posed a number of questions. "What is the nature of the relationship, connection and protection offered by Modi to Fatta, the alleged hawala kingpin who features in a number of photos along with the Gujarat chief minister in various social and political functions?" Surjewala asked. He further added, "If he has nothing to hide, he should submit himself to an independent probe."
Wondering whose money running into Rs 1,000 crore or more was being transmitted through the hawala racket, Surejwala said there was a need to find out in what shape and what purpose this money was being brought back to India and put to what use. "The complete complacency of Modi and his government to one of the biggest hawala rackets being run in Surat under their nose and eye points towards their complicity or indifference to upholding the law and checking nefarious elements involved in anti-national activities," he said.
Noting that four shooters of underworld don Babloo Srivastav had shot at one Amjad Dalal, brother of Afzal Dalal, who is a partner of Fatta, Surjewala wanted to know what is the connection of this racket to the underworld and Babloo. "How is he (Babloo) seeking a stake in the money being channelised through hawala racket? Do Modi and others have any connection to these underworld criminals?" he said.
However, shortly after the CD was released, Modi's close confidante Amit Shah tweeted an image of Mohammad Azharuddin, Congress candidate from Tonk-Sawai Madhopur, with Fatta. BJP spokesperson Meenakshi Lekhi too defended Modi saying that the party would give a detailed reaction later. She also added that getting photographed in public with someone could not be held against that person.