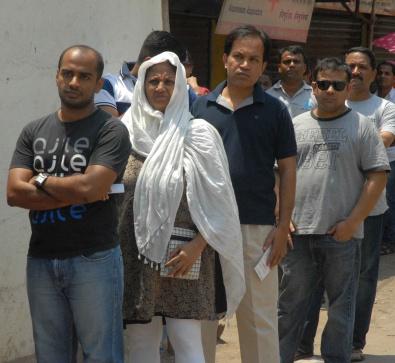 For many Mumbai voters, the experience left a bad taste in their mouths on Thursday, after they found to their dismay that their names missing in the voting list and were not allowed to exercise their right.
Uday Kuckian, a Mira Road resident, was among the thousands whose name wasn't part of the voters' list in spite of having a voting card.
His wife Sarika faced an even more curious situation.
Satisfied after finding her name on the list with the help of booth managers at the polling station, she proceeded to cast her vote. But was shocked to find it missing from the list inside the marking compartment and finally was not allowed to vote.
Special Coverage: Election 2014
Ranka Patel, a resident of Napean Sea Road complained that she and her family who have been voters since many years were not allowed to vote as their names were missing from the list. "I first went to the polling both at 12 pm, but my name was missing," Patel rued.
Patel had filled the Form 6 (the voter registration form) in October 2013 because she was informed that her name was not in the voting list, "Even after filling the form, submitting all the necessary documents and having a voter's ID, I was not allowed to exercise my right. It's a shame that the election officers didn't do their jobs."
The officer on duty told her to meet a senior electoral officer, a 'Mr Rokade', at the Grant Medical Gymkhana. "When I met Rokade, he said that he wouldn't be able to help and made me fill the form again. It's really disgusting that the government cannot even get us our basics rights, leave alone the running of the state."
Naeem Killadar, who has voted previously and was also not allowed to vote, said, "I am really upset. I have never faced this issue."
Killadar added that a police officer on duty guided him to fill a form at the electoral office at the Old Customs House, "I was asked to fill a form and the officer said that on a special basis I might be able to vote on a ballot paper before the counting. I am not sure how true that is."
Image: Mumbaikars queue outside polling booths to cast their vote. Photograph: Sahil Salvi