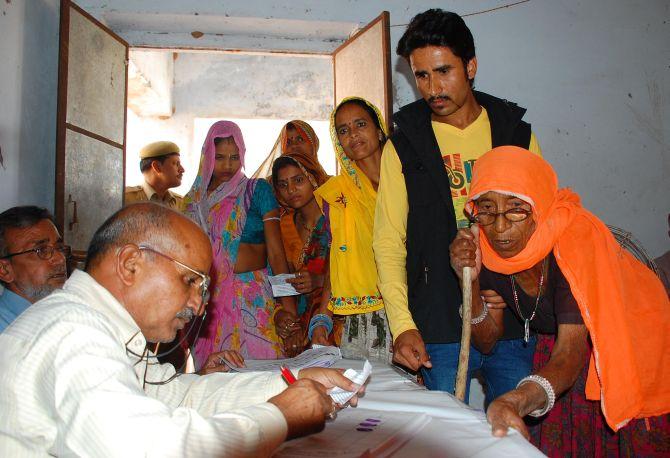 Stones were pelted and two vehicles were burnt by miscreants who were allegedly trying to rig the process. Shahnawaz Akhtar reports from Dausa in Rajasthan.
The highly-sensitive seat of Dausa in Rajasthan witnessed violence on Thursday, as it went to vote in the second phase of polling. According to the police, five photojournalists were attacked by some miscreants in Santha area.
On hearing that a few men were trying to rig the process, photojournalists were on their way to the polling booth when stones were pelted at them and two vehicles were also set ablaze.
"When we heard that some kind of incident had taken place in Santha, we left for the area in a jeep. But before we could arrive at the spot, a few men in a vehicle stopped us and pelted stones at us, even after we told them that we were journalists," said Paras Jain, one of the photojournalists, who was attacked. Jain, who sustained a few minor injuries to his head, added that their cameras and laptops were damaged in the incident.
Local reports hint that the attackers were the supporters of independent candidate Kirori Lal Meena. When Meena met the victims of the attack later, he apologised to them, saying, "It is unfortunate what happened and I apologise for it." However, he refused to comment if the men responsible were his followers.
Owing to the incident, polling also stopped at the Hingawa booth for two hours.
Dausa is one of the five seats that went to the polls on Thursday. The other constituencies that went to the polls were Alwar, Bharatpur, Karauli-Dholpur, and Tonk-Sawai Madhopur.
Complete Coverage: Election 2014
Image: The young and old turned up in Dausa constituency to cast their ballot. Photograph: Chandra Mohan Aloria