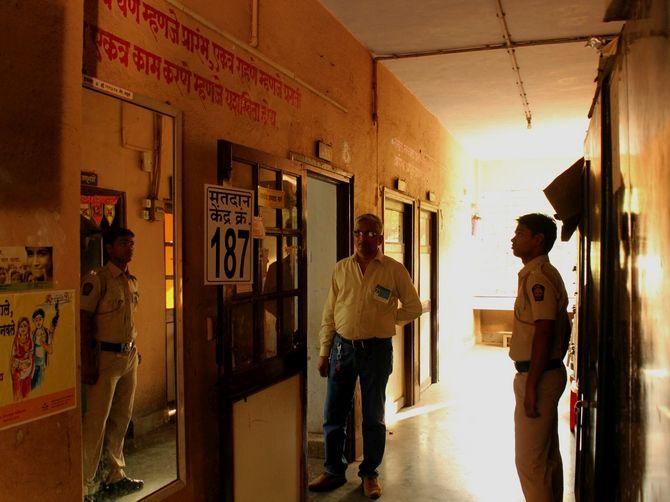 Rediff.com's Sonil Dedhia explains how he transformed from an ignorant teen who didn't believe his vote would make a difference to someone who grew to understand politics and finally get inked.
As a teenager, completely ignoring the 'Jaago Re' campaign on prime time television, and thinking as most other teenagers do, I believed a single vote wouldn't make a difference. But, on Thursday, putting aside my previous beliefs and thought process, I went ahead and got inked.
But it wasn't as if an epiphany helped me change my mind. It was my profession -- journalism -- that helped mould my decisions, help me understand that my previous thought process was rooted in ignorance.
Complete Coverage: Election 2014
As a teen, corruption, rising prices and safety of women in the country were issues we discussed among friends and would then go on with my life. Day in and day out, I would read reports in papers about rapes and scams.
Then I became a journalist and was assigned to cover the Gujarat assembly elections in 2012. I had never written about politics earlier, nor did I take a keen interest in it and took this assignment as a challenge. Once in Gujarat, I interacted with people, young and old, about development and other issues.
All of a sudden, my interest in politics grew and I started reading about it. My evenings which were normally spent in front of the idiot box watching movies was replaced with political discussions held on different news channels.
And after all of those discussions and conversations with friends, I went to cast my vote on Thursday. As a first time voter, the process was frightening but yet exciting. There was a sense of realisation how significant my vote was and the role it would play in deciding the future of the country.
I have to admit it wasn't easy to choose from the various candidates; so many of them promising different things. But, at the end of the day, without being influenced by anyone, I cast my vote for the first time.
Image: A man goes to cast his ballot at a polling station in the Mumbai North constituency.