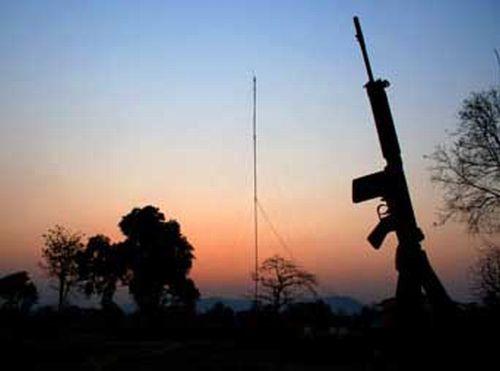 Seven members of a polling team and five Central Reserve Police Force personnel were among 14 killed as Naxals struck twice on Saturday in a break of less than an hour, blowing up a bus and an ambulance in Bijapur and Bastar districts of Chhattisgarh.
Ten persons, including five paramilitary personnel, were also injured in the two incidents.
The Naxals attacked the polling team near Ketulnar village under Kutru police station limits of Bijapur at about 11 am when it was returning after voting in the region, leaving seven polling personnel dead and five injured, Additional Director General of Police (Naxal Operation) R K Vij said.
Polling was held in Naxal-affected Bastar constituency on April 10.
When the election team reached near a pond in Ketulnar village between Gudma and Kutru, Naxals triggered a landmine blast and opened indiscriminate firing, he said.
"Six polling personnel were killed on the spot while another succumbed to injuries at a local hospital," the ADG added.
After preliminary treatment at a local hospital, the injured polling officials were airlifted and admitted to a private hospital in Raipur for further treatment, he said.
The rebels fled deeper into the forest after security personnel launched a retaliatory attack.
Reinforcements were rushed to the spot soon after getting the news of the incident and the victims were retrieved from the dense forest, he said.
Less than an hour later and about 100 km away, Naxals blew up an ambulance carrying CRPF personnel at Kamanar village under Darbha police station, leaving five securitymen and the ambulance driver dead on the spot. A paramedic technician of the ambulance succumbed in a local hospital, the ADG said.
Besides, five paramilitary personnel were also injured in the incident, Vij said, adding they were airlifted to Raipur and are undergoing treatment at the private hospital.
According to a senior police official, the personnel belonged to 80th battalion of Central Reserve Police Force and were heading towards Jagdalpur district headquarter after a security operation in the region for the movement of polling teams.
Some of them took lift in the ambulance ahead of Kamnar.

Naxals were apparently keeping a watch on the movement of the security forces following which they targeted the vehicle, he said.
The slain CRPF personnel have been identified as Inspector M K Rai, Assistant Sub-Inspector Kanti Bhai, Head Constable's Sitaram and M Umesh, Constable Dinesh and the civilian driver Vasu Sethiya.
A police official told PTI that around 75-100 armed rebels were involved in the ambush on the polling team.
After triggering a landmine blast, the Naxals opened indiscriminate firing on the bus
Meanwhile, Chief Electoral Officer Sunil Kujur said some ballot units of the EVM machines possessed by the polling officials was damaged in the mishap.
However, the control unit of those EVMs has already been shifted to the district headquarter, he added.