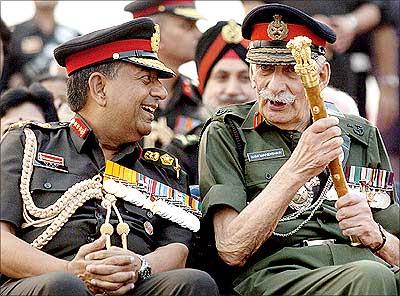 Field Marshal S H F J 'Sam' Manekshaw, independent India's greatest military commander, would have turned 100 on April 3, 2014.
To mark the occasion and to celebrate a brilliant mind and one of India's best-loved soldiers, we reproduce, with kind courtesy of the Indian Defence Review, the Field Marshal's lecture at the Defence Services College, Wellington, on Leadership and Discipline, on November 11, 1998.
Please click here to read the full lecture.
Image: Field Marshal Manekshaw with then army chief General N C Vij at a military parade in New Delhi.
Courtesy: Indian Defence Review