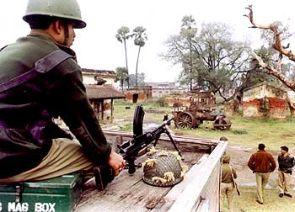 The Bihar government on Wednesday issued shoot-at-sight orders against troublemakers and made tight security arrangements to ensure violence free polling in 6 of the 40 Lok Sabha seats to be held on Thursday.
"A high alert has been sounded in the Maoists affected six constituencies of Bihar. Patrolling has been intensified and armed paramilitary forces have been deployed at all booths," an official said.

Intelligence reports have warned of poll related violence by Maoists, said an official of the state home department said.

Security forces on Wednesday recovered ten cane bombs in Gaya and Aurangabad Lok Sabha constituencies.

Most Maoist affected areas of the state will go to the polls in the first phase on April 10. The Maoists have given a call to boycott the elections in their stronghold.

"A total of 46,000 security personnel including 22,000 home guards, 74 companies of Bihar Military Police and 163 companies of central paramilitary forces would be deployed on election duty in six Lok Sabha constituencies," Bihar Chief Secretary A K Sinha.

He said all the concerned officials in the districts have been asked to take tough action against troublemakers.
Commandoes in two Indian Air Force helicopters will provide air cover to paramilitary forces, who with polling officials will ensure free and fair polling.

"It is a big challenge for security personnel to hold free and fair elections in Maoists affected areas," ADG(police headquarters) Ravinder Kumar said.

Gaya Senior Superintendent of police Nishant Tiwari admitted that landmines are the biggest challenge during polls.

On Monday, 3 CRPF troopers were killed in Aurangabad district when an improvised explosive device blew up while they were defusing it.

Additional chief electoral officer of Bihar, R Lakshmanan, said that besides two choppers used for air patrolling, one chopper would be on standby for any poll related incidents reported from any of these constituencies.

A senior police official of ADG rank said that Maoist guerillas are the main threat.

"The state government has decided to arrange an air ambulance that will be stationed here. It has approached New Delhi based Medanta, Max and Apollo hospitals for air ambulance," police official said.

A whopping 94,57,323 people are eligible for votes including 2.75 lakh first time voters. They will decide the fate of 80 candidates including 10 women in the fray.

Prominent candidates include Lok Sabha Speaker Meira Kumar, Bihar Assembly
Speaker Uday Narain Choudhary, former Kerala governor and Delhi Police chief Nikhil Kumar, LJP chief Ram Vilas Paswan's son Chirag Paswan, and former union minister Kanti Singh.

Meira Kumar is seeking re-election from the Sasaram constituency to score
a hat trick but it may prove tough for her to pull it of.

In Aurangabad constituency, Congress' Nikhil Kumar is contesting against sitting MP Sushil Kumar, who was expelled from the Janata Dal-United and now a Bharatiya Janata Party candidate. The JD-U has fielded Bagi Kumar Verma, making it a triangular contest.

Paswan, Bollywood actor turned politician, faces Chaudhary (JD-U) and the Rashtriya Janata Dal's Sudhanshu Shekhar Bhaskar in Jamui (reserved) constituency.
Image: Security personnel keep a watch in a Naxal-infested village in Bihar.
Photograph: Reuters