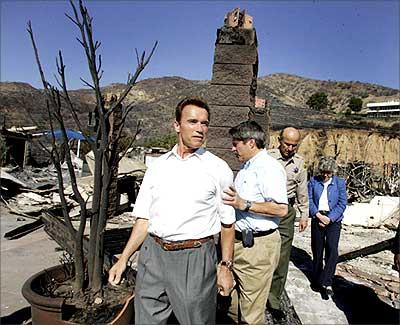 I live in Sabre springs Poway which is North Inland in San Diego. There is a large Indian-American community in San Diego, especially in Rancho Bernardo, 4S Ranch, Rancho Penasquitos, Scripps Ranch and Del Mar, where flames have engulfed several homes, threatening to spread even further. People have been asked to evacuate in large numbers.
We had our bags packed and loaded in the van and ready to leave anytime. We picked up a few personal belongings, important documents and files along with food and water for kids. The fires were burning very close to where we live. The streets that they were naming on television for evacuation were the streets that were in our vicinity.
A few Indian families with small kids living in 'under serious threat areas' moved to our house and we were all sitting in front of the television worried and scared at the same moment and listening intently to any piece of news coming in.
We had been up most of the night waiting for news. The Indian-American community and other well-wishers had been calling constantly to exchange information since the wee hours of the morning. Our friends had gathered and were moving in groups to safer places. From the news that was coming in, it was inevitable that we would have to leave our home and move to safer locations.
We evacuated our home at around 3 pm Monday afternoon along with four other families who were at our place at the time we left. We live in a complex which accommodates about 250 families. Most neighbors on our street had left by then.
As we headed out of our home towards Interstate 15, the sky had thick smoke clouds and soot and ash was falling on our windscreen. As we headed towards I-15, we realised that the freeway towards north was closed and we could only head south.
The traffic was bad but manageable at that time. We could hear warnings of voluntary evacuation. We couldn't decide whether to head south or move north towards Los Angeles via I-5.
We spoke to several friends and found out that a large number of them were stuck in traffic jams. We prayed all along for their safety and moved on slowly with the traffic towards I-5 north. The air was so heavy that it was difficult to breathe.
One of friends' family (Siddharth and Suruchi) slept late in the night after listening to news updates. The fire was still far away from where they live but still they packed their essentials and set their alarm clock for 4 in the morning just to listen to the news update. When they got up in the morning at 4 and saw outside their backyard they could see flames leaping up.
They just picked up a few more things quickly and headed out. Till then they had received no evacuation warnings. They were lucky to have seen it in time and evacuated. There are several such stories but thankfully they all ended well. We called another couple at about 6.30 in the morning after hearing that fire had spread in Rancho Bernado very close to where they live. Ashwini picked up the phone and said " listen there is fire in my backyard we are all evacuating"
Later when I spoke to her she told me how they just rushed out of their house and drove away. The whole area was backed up with traffic adding much panic and anxiety. She was obviously shaken and in tears. She was almost certain that the fire would have engulfed her house but still thankful for her safety and that of her family.
After assessing the situation, we all decided to head north towards Los Angeles to move out of the fire zone. Still in constant touch with most of our friends, we heard of more evacuations in Scripps Ranch and Miramar Road, all these being areas in our neighborhood. Several friends made panicked calls informing us how they were stuck in traffic which was not moving at all.
We were bumper to bumper on I-5 North heading towards Anaheim. At places traffic on the freeway moved at less than 25 miles per hour. Earlier in the day the district made calls to all parents of children in Poway Unified school district making clear that there would be no school at least till Wednesday. The kids got up in the morning to the sound of news channels.
They jumped with joy on hearing that schools would be closed. Fire added further excitement. My younger son associating it with fireworks just like the ones that we had witnessed a day before on Dussehra when they burned Ravana's effigy followed by fireworks. 
I called Jyotsana, my close friend, who is pregnant. She lives in Escondido off of Interstate 15. She had an appointment with her doctor at 10 am. She was due any day. They did not realise that the situation was this bad until the morning. By that time they realised that Interstate 15 had been closed to traffic. They hopped into their minivan along with her visiting parents and headed on 78 to reach I-5.
After spending two hours in a traffic jam they covered a distance of 15 miles. Finally, moving south they reached close to their hospital and stationed themselves in the parking lot of the mall. She decided she wanted to stay close to her hospital. By the evening she was sufficiently panicked and worried for the safety of her yet unborn baby.
We reached Anaheim after a good five-hour drive. Normally it would have taken an hour-and-half. Extremely tired, exhausted and hungry, we were covered in soot and ash. As I washed myself clean, I thanked God for the safety of my family and smiled at the thought of the little Ganapati I secretly kept in my purse before I ran from my home.
Text: Veenu Puri Vermani in San Diego | Photograph: AFP/Getty Images 
Image: California Governor Arnold Schwarzenegger walks through the ruins of the badly burnt site of Malibu Presbyterian Church in Malibu, California. Wind-whipped wildfires raged unchecked across California on Monday, forcing evacuation of hundreds of thousands of people and besieging homes.