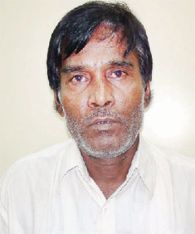 An Indian connection to the war crimes tribunal has emerged, further complicating matters, says RS Chauhan
Last week, even as a court in Bangladesh cancelled the registration of the right-wing Jamaat-e-Islami as a political party and a war crimes tribunal in Dhaka framed charges against Jamaat-e-Islami leader AKM Yusuf, historically known as the founder of the infamous Razakar force, an Indian connection to the war crimes tribunal has emerged, further complicating matters.
On Friday Bangladesh's high court prohibited the Jamaat-e-Islami from contesting elections, saying its constitution was illegal. The genesis of the high court order lies in laws passed in 2008, when Bangladesh's former military-backed government set out new criteria for political parties. The Jamaat held back on amending key portions of its constitution -- notably one that proclaimed sovereignty lay with Allah, rather than the people, through its parliament.
In the same week, according to Bangladesh media reports, Yusuf, now 87, is facing 13 allegations of war crimes including genocide, killing, looting, arson, religious conversion and deportation of people. He is the second octogenarian leader of the Jamaat after Ghulam Azam, 90, to be held responsible for the widespread violence during Bangladesh's war of independence in 1971. Azam was sentenced to 90 years in jail on July 15.
Jamaat leader Delwar Hossain Sayeedi and the party's assistant secretary-general, Muhammad Kamaruzzaman, were both sentenced to death by the tribunal earlier this year.
The International Crimes Tribunal in Bangladesh was set up by the current Awami League-led government in 2010 to try alleged collaborators of the Pakistani army during Bangladesh's war of independence.
Human rights groups, however, have said the tribunal falls short of international standards.
One concrete instance they cite is that of Sukhranjan Bali, a key witness in the Delwar Hossain Sayeedi case.
Human rights activists and some journalists have raised concerns over Bali's fate, now in an Indian jail.
The Supreme Court of India on Friday in fact stayed the deportation Sukhranjan Bali who claims the Sheikh Hasina government will eliminate him as he had turned hostile during an ongoing trial on the 1971 war crimes. According to the Telegraph, the order on Bali was passed after additional solicitor-general Indira Jaising, representing the Centre, gave an assurance that the government would not take any steps to send him back for two weeks.
Bali is now lodged in the Dumdum central jail. Bali rushed to the apex court as the high court had earlier adjourned his case to August 7. Today, Bali's lawyer Colin Gonsalves urged the bench to take up the matter urgently saying he could be sent back any time. In his petition, filed through a nephew, Bali said he was initially arrayed as a prosecution witnesses before the war crimes tribunal in one case.
However, after he turned hostile in November 2012, he claimed he was abducted by security forces at the gates of the tribunal in Dhaka. After being kept in illegal custody, Bali alleged, he was pushed across the border into India where the Border Security Force arrested him.
A court in North 24-Parganas' Basirhat sentenced Bali in April this year to 110 days in jail for illegally entering India. Bali has already served the sentence and fears he will be sent back to Bangladesh any moment.
In January, Human Rights Watch had asked the Bangladeshi authorities to immediately explain what actions they have taken to locate Bali, a witness who defence lawyers and witnesses say was abducted from the gates of the war crimes courthouse in Dhaka on November 5, 2012. "An allegation of abduction is of the utmost seriousness since the person abducted is at great risk of being killed," said Brad Adams, Asia director at Human Rights Watch. "The government should have immediately mobilised all available resources to find Bali, but has done nothing, making it appear at best indifferent to the welfare of one of its citizens."
Bali's fate will be decided by the Calcutta high court later this week. Whether he gets deported or stays in an Indian jail may have very little impact on the war crimes trial outcome but Bali's disappearance from Dhaka and his subsequent arrest in West Bengal has dented the integrity of Bangladesh's International Crimes Tribunal.
Image: Sukhranjan Bali