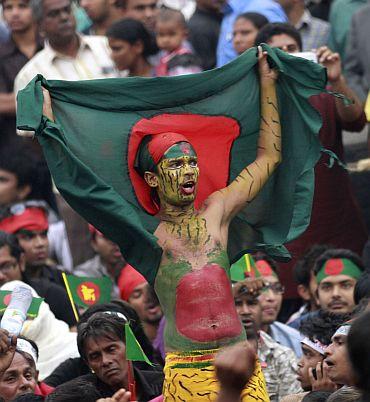 Violence continued unabated in Bangladesh on Friday as at least 46 people were killed in clashes that erupted after a top leader of fundamentalist Jamaat-e-Islami was handed down death penalty for 'crimes against humanity' during the 1971 liberation war.
The violence broke out after 73-year-old Delwar Hossain Sayedee, vice-president of the Jamaat-e-Islami (JI), was sentenced to death by International Crimes Tribunal.
At least 42 people were killed on Thursday in rioting triggered by the death sentence to Sayedee, who was found guilty of eight counts out of 20, involving rape, mass killings and atrocities during the 1971 freedom war against Pakistan.
Fresh violence erupted on Friday, killing three people in Gaibandha and Chapainawabganj districts and one policeman succumbed to his wounds sustained in clashes on Thursday.
Officials said that law enforcement agencies appeared to be the prime target of the right-wing JI activists.
The situation prompted local authorities to enforce ban on gathering of more than four people under section 144 of Criminal Procedure Code in troubled areas, five northwestern and one southwestern district, said to be JI strongholds.
Many others, including policemen, were also injured when the supporters of Jamaat-e-Islami and its student wing Islami Chhatra Shibir clashed with police and ruling party men in different locations in the country.
The police fired rubber bullets and tear gas to disperse Jamaat protesters in the capital Dhaka leaving several people injured, the police said.
Meanwhile, in a major development main opposition Bangladesh Nationalist Party chief Khaleda Zia on Friday extended its open support to its extreme right-wing ally JI.
Zia accused Prime Minister Sheikh Hasina of influencing the war crimes trial saying that she was standing by non-partisan youngsters who are demanding capital punishment for the top war criminals.
"No judge (of the war crimes tribunal) can now independently try the accused after her (Hasina's) call asking them to be sympathetic to the demands for death sentences to the war criminals," Zia told reporters.