Bihar CM says there's no question of going back on supporting NDA nominee Ram Nath Kovind. M I Khan reports from Patna.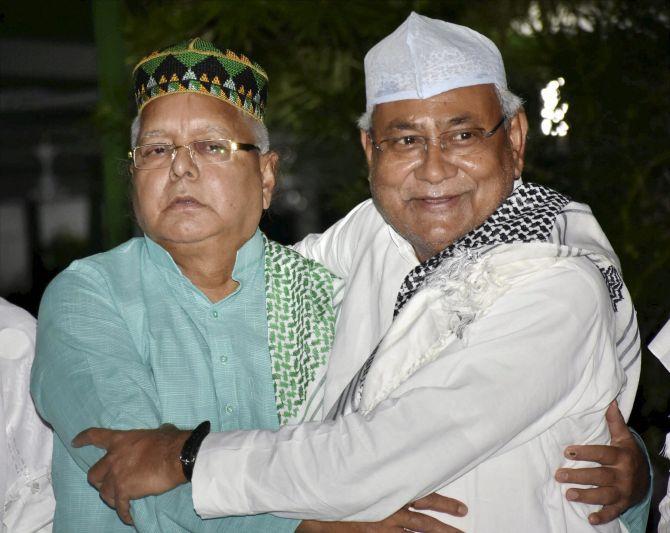 Bihar Chief Minister Nitish Kumar on Friday said there is no question to change his decision to support Ram Nath Kovind, the National Democratic Alliance nominee for the presidential poll.
"Nirnay badalne ka koi sawal hi nahi hai kyonki JD-U core committee ne nirnay liya hai (there is not question to change the decision taken by Janata Dal-United core committee)," Nitish told media in Patna, soon after the Iftar hosted by Rashtriya Janata Dal chief Lalu Prasad Yadav.
Nitish also rejected the appeal of Lalu 'not to make a historic blunder' by extending support to Kovind.
He reiterated that Kovind, as the Governor of Bihar, has done good work for the state and managed things smoothly for the state during his tenure.
Nitish also said that combined Opposition nominee Meira Kumar, who has been described as 'Bihar ki beti' by Lalu, was put up to be defeated.
"Bihar ki beti ko harane ke liye khada kiya gayaa hai (Bihar's daughter has been fielded to lose)," Kumar said.
Earlier, both Lalu and Nitish attended the Iftaar but they were neither seen talking to each other nor smiling.
Besides Nitish, other politicians of Bihar's ruling Grand Alliance of JD-U, RJD and Congress have attended Lalu's Iftar at 10 Circular Road, official residence of his wife and former chief minister Rabri Devi.
Nitish was welcomed by Lalu personally. He sat at a place surrounded by Lalu and his family members including Rabri, her younger son and deputy chief minister Tejashwi Yadav and elder daughter Misa Bharti, who is a Rajya Sabha MP.
Though Lalu and Nitish sat on the same sofa, both ignored each other and hardly made a direct eye contact. It appears clear that they have developed some distance.
Earlier in the day, Lalu had again appealed to Nitish not to make a 'historic blunder' by extending support to Kovind.
Describing Meira Kumar as 'Bihar ki beti' (daughter of Bihar), Lalu appealed to Nitish to 'mend the historic blunder' of supporting the NDA candidate.
"We are still treading on the path you had suggested to make the country 'sangh-mukt'...don't know what made Kumar move away and extend support to an RSS (Rashtriya Swayamsevak Sangh) man," Lalu told reporters on his arrival at the Jayprakash Narayan Airport in Patna from New Delhi.
The RJD president, however, made it clear that the divergent paths taken by his party and the Janata Dal-United would have no impact on the Grand Alliance government in Bihar.
"There will be no impact of this (different views of the RJD and the JD-U) on the Grand Alliance government in the future," Lalu said.
Bihar JD-U president Basistha Narayan Singh repeated the party's decision to support Kovind and made it clear that there was no going back on it.
"Kovind as governor of Bihar walked hand-in-hand with the state government on the path of development...he has displayed attachment with Bihar," Singh said.
His party colleague Shyam Rajak echoed similar views.
"Hum logo ne thok-baja ke faisla liya hain (we have taken a decision after considering everything)," Rajak said.
Rajak is deputy leader in the state Assembly and member of the JD-U core committee which decided on Tuesday to support Kovind.
With inputs from PTI
IMAGE: Bihar Chief Minister Nitish Kumar with RJD Chief Lalu Prasad at the Iftaar hosted by the latter in Patna on Friday. Photograph: PTI Photo