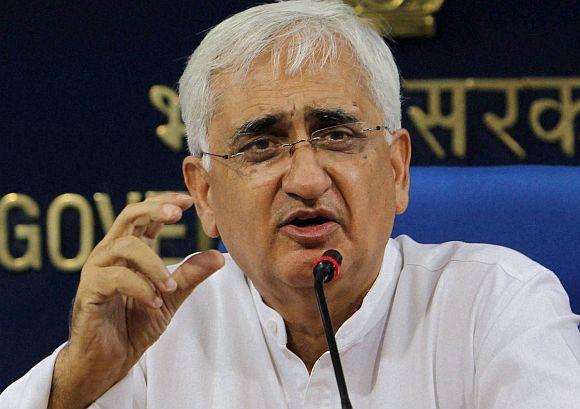 External Affairs Minister Salman Khurshid on Wednesday left for Iraq on a two-day visit aimed at deepening India's ties with the oil-rich Arab country.Khurshid, the first Indian external affairs minister to visit Iraq in last 23 years, will hold talks with his Iraqi counterpart Hoshiyar Zebari and discuss bilateral, regional and international issues of mutual interest.
"This forthcoming visit is expected to add an impetus to our bilateral relations and elevate our ties to a higher level for the mutual benefit the people of India and Iraq," said a statement from the ministry of external affairs.
During his talks with Iraqi leadership, Khurshid is expected to discuss the issue of import of oil from Iraq, which has emerged as India's second largest crude oil supplier, replacing sanctions-hit Iran.
In recent years, India's import of oil from Iraq has seen a significant rise. Iraq has the world's third largest proven oil reserves and it's trying to increase its oil production which was disrupted due to years of war and violence in the country.
Currently Iraq supplies 50 per cent of its oil to Asian countries and it plans to take the figure to 80 per cent by 2030, according to officials. Till recently, Iran was India's second-biggest crude oil supplier after Saudi Arabia, meeting about 12 per cent of the country's needs.
But India has reduced its dependence on Iranian oil in the wake of United States and European sanctions on the import of oil from the Islamic Republic. India imported about 13.3 million tonnes of crude oil from Iran in 2012-13 fiscal, down from 18.1 million tonnes shipped in the previous financial year.
Khurshid is also expected to call on Prime Minister Nouri Al-Maliki, and chairman of council of representatives and deputy prime minister of Iraq. "India remains committed to support the ongoing post-war reconstruction and development efforts in Iraq," said the statement.
Former External Affairs Minister I K Gujral, who later became the prime minister, had visited Iraq in 1990 in connection with the evacuation of Indians in the wake of Gulf war.