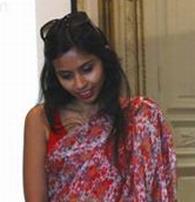 An arrest warrant has been issued against Indian diplomat Devyani Khobragade, whose arrest in December had soured India-US relations, a couple of days after a US court dismissed an earlier indictment.
An arrest warrant was on Friday issued against Indian diplomat Devyani Khobragade, left, on visa fraud charges after her fresh indictment by United States prosecutors, who accused her of "illegally" underpaying and "exploiting" her domestic maid.
Dr Khobragade, 39, who was arrested in New York on December 12 and has since been transferred to the ministry of external affairs in New Delhi, faces arrest if she visits the US, where her husband and two children are staying.
Following the fresh 21-page indictment, US Attorney in Manhattan India-born Preet Bharara said in a letter to US District Judge William Pauley that an "arrest warrant was also issued today" against the diplomat and that the government "will alert the court immediately upon the defendant's arrest so that an appearance" before the judge may be scheduled.
The new charges, which came two days after a US court dismissed an earlier indictment on Wednesday, accused her of visa fraud and making false statements about the visa application of her maid Sangeeta Richard.
A federal court in New York had dismissed the charges against Dr Khobragade on a technicality, but left an opening for prosecutors to indict her again.
US Attorney Preet Bharara wasted no time and filed charges against her.
This clearly means that Bharara is not letting go at a time when both the Obama administration and New Delhi had some closure on this saga and could try and get back to the business of resurrecting the US-India strategic partnership which had suffered a major blow following the initial arrest, strip and cavity search of Dr Khobragade, and in the aftermath, and led to retaliatory action by New Delhi in playing strictly by the book of reciprocity when it came to US diplomats in India.
The fresh indictment filed in a federal court in Manhattan on Friday March 14 charges that Dr Khobragade submitted to the US State Department an employment contract of her domestic worker which she knew contained 'materially false and fraudulent statements.'
The 21-page indictment states that the diplomat 'knowingly made' multiple false representations and presented false information to US authorities in order to obtain a visa for a personal domestic worker.
The indictment said Dr Khobragade did not want to pay the victim the required wages under US law or provide the victim with other protections against exploitative work conditions mandated by US law.
'Knowing that if the US authorities were told the truth about the actual terms of her employment agreement with the victim, Khobragade would not have been able to obtain a visa for the victim, Khobragade decided to make false statements to the US authorities,' the indictment claimed.
The diplomat, who was transferred to India and is now with the ministry of external affairs, has refuted the charges against her.
The indictment gives details of the employment contract that Dr Khobragade entered into with her domestic help Sangeeta Richards.
It further states that Dr Khobragade 'illegally underpaid and exploited the victim.' The indictment said the diplomat kept Richards's passport with her and said she would return the passport to the maid once her three-year term of employment was completed.
It also states that 'escalating efforts' were made by Dr Khobragade and others 'to silence and intimidate the victim and her family and lie to Indian authorities and courts.'
Bharara has submitted as exhibits a copy of the employment contract that Dr Khobragade entered into with Richards that states that she would be paid $9.75 per hour as salary and would be required to work 40 hours a week.
According to prosecutors, Dr Khobragade claimed she paid the woman $4,500 a month, but actually paid her around $3 per hour and asked her to work for more hours.
Dr Khobragade was arrested on December 12 on visa fraud charges and for making false statements regarding Richards's visa application.
The indictment comes a couple of days after Dr Khobragade, 39, secured relief from District Shira Scheidlin who said in her 14-page order 'it is undisputed' that the diplomat acquired full diplomatic immunity at 5:47 pm on January 8 after the State Department approved her accreditation as a counsellor to India's mission to the United Nations.
The ruling had, however, left open the possibility that US prosecutors could bring a new indictment against Dr Khobragade which was swiftly carried out on Friday.
Friday's indictment states that Dr Khobragade knew the actual arrangement between her and Richards 'violated US laws' and so she created a 'fraudulent employment contract' and had the 'victim execute it'.
'Because it was created by Khobragade solely to deceive the US embassy during the victim's (visa) interview,' the employment contract 'included false statements' that made it seem as if the diplomat's arrangement with the 'victim would comply with applicable US laws.'
Read the indictment here
Image: Devyani Khobragade ' Photograph Courtesy: https://www.facebook.com/devyani.khobragade
Additional inputs: Aziz Haniffa/Rediff.com