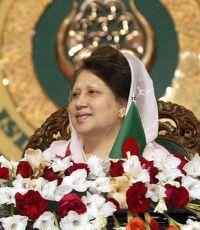 Bangladesh Prime Minister Sheikh Hasina has criticised opposition's ongoing agitation to thwart the January 5 polls and warned that Bangladesh Nationalist Party leader Khaleda Zia would be held responsible for the deaths and violence.
"Those who are killing people, unleashing violence in the name of demonstrations, will be tried on this soil. She (Khaleda) will be held responsible for orchestrating (the violence)," Hasina said.
She accused the opposition of shielding war criminals, killing people, unleashing torching and arson attacks.
"They understand nothing but violence. They (the opposition) do not understand democracy," she said.
She also directed her party activists to thwart any attempt to foil the polls.
The Awami League chief said Zia would have to face trial for violence during the BNP-led 18-Party alliance's agitation.
She said that the elections would be held as per schedule and asked people to go to the polling centres to vote.
"Don't think we've won and so there is no need for voting," bdnews24.com quoted Hasina as saying.
Zia has demanded the January 5 polls plan be scrapped as over half of the candidates in the 300-seat parliament were set to be declared unopposed in the absence of rivals from her party and called for the blockade for indefinite period.
But, Hasina came down heavily on those who are advocating to defer the polls.
"Their job is to destroy democracy," she said, questioning the opposition's movement for restoration of the caretaker-government system where unelected people are tasked with running the country and organising the polls.
"Bangladesh has not forgotten the 1/11," Hasina said, referring to the January 11, 2007 takeover by a military-backed caretaker government which stayed in power for around two years.
"None was spared from its torture," she said.
"The caretaker government had sent Khaleda Zia's sons abroad after torturing them. The opposition leader has apparently forgotten the tortures inflicted upon the general people," the prime minister said, adding the people did not want that form of government any more.