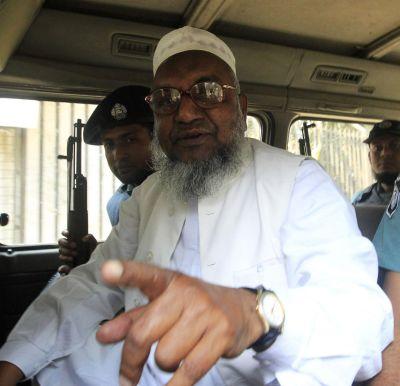 Abdul Quader Mollah, a senior leader of the fundamentalist Jamaat-e-Islami party, was executed on Thursday for genocide during Bangladesh's 1971 liberation war, hours after the Supreme Court rejected his review petition.
The 65-year-old Mollah, infamous as the "Butcher of Mirpur", was the first politician to be executed for massacre and rape during the war of independence from Pakistan.
Mollah was hanged at 10.01 pm (local time) in Dhaka Central Jail, a prison official told PTI. The apex court today upheld the death sentence for the assistant secretary-general of the right wing party, rejecting his review plea two days after his hanging was dramatically put on hold in a last-minute reprieve.
Mollah sided with Pakistani troops during the war and gained notoriety for leading the infamous Al-Badr militia in the Dhaka suburb of Mirpur, where he had a role in slaughtering a large number of people, including women and children
Earlier reports had suggested that Mollah would be executed shortly after midnight.
Jail officials earlier in the day said Mollah refused to seek presidential clemency under a constitutional provision when they asked him whether he wants to request the president to pardon him.
On Tuesday, the execution of Mollah, the fourth-highest Jamaat leader, was stayed less than two hours before he was set to be hanged.
Anticipating protests from Islamists, authorities enhanced security in the capital Dhaka and deployed paramilitary troops in several cities and sensitive areas.
Paramilitary Rapid Action Battalion and the police enforced a tight vigil, mobilising riot cars and armoured personnel carriers around the prison in Old Dhaka.
A war crimes tribunal sentenced Mollah to life imprisonment on February 5 but the Supreme Court revised the verdict on September 17 and raised it to death penalty.
After the Supreme Court on Thursday morning upheld Mollah's death sentence and rejected his review petition, Islamists and opposition activists rioted in several cities across the country, clashing with police with crude bombs and rocks.
The Jamaat is a key member of the 18-party opposition alliance led by the Bangladesh Nationalist Party. Mollah is one of five Islamists and other politicians sentenced to death by a special war crimes tribunal. The opposition has claimed their trials were politically motivated and aimed at eradicating its leaders.
The special tribunal issued the death warrant for Mollah earlier this week after the Supreme Court released the full version of its verdict confirming his capital punishment for committing crimes against humanity during 1971 Liberation War.
Mollah's death is the most high-profile execution since January 2010, when five ex-army officers were put to death over the assassination of Sheikh Mujibur Rahman, the nation's founder and Prime Minister Sheikh Hasina's father.