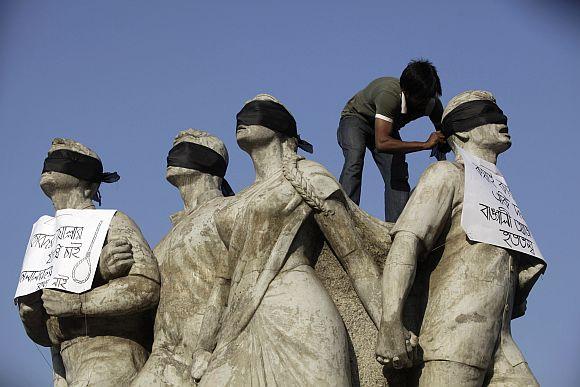 Bangladesh's main opposition Bangladesh Nationalist Party's three top women leaders were arrested on the second day of the 'democracy march' on Monday, as clashes erupted inside the supreme court premises between pro- and anti-government lawyers.
BNP Vice Chairman Selima Rahman, Member of Parliament Rasheda Begum Heera and ex-MP Newaz Halima were detained from in front of the former prime minister Khaleda Zia's residence here which was virtually sieged by riot police.
The three reached Zia's home on foot and asked the police to allow them to go inside, local media reported. Moments later, the police escorted them and took them to a police station.
Meanwhile, the police said that in a predawn raid on Monday, they have arrested three suspected opposition activists from a house here and seized more than 200 homemade bombs which were believed to be manufactured there to be used during protests.
Several senior BNP leaders have been detained in the past two weeks and many others visibly went underground. Monday's arrests came as a security blanket was thrown over Dhaka with troops guarding key points to secure them from the BNP-led opposition movement that threatens to continue until the January 5 elections are called off.
Violent clashes erupted this morning at the supreme court complex in central Dhaka with pro-and anti-government lawyers exchanging brickbats, a day after the area turned to be battlefield pitting riot police and ruling Awami League activists against lawyers supporting BNP and its crucial ally fundamentalist Jamaat-e-Islami.
Armoured Personnel Carriers were positioned at areas deemed trouble spots while paramilitary Border Guard Bangladesh troops and elite anti-crime Rapid Action Battalion forces patrol the city streets.
In a press briefing, the BNP on Sunday announced it would stage non-stop sit-in protests like Mahatma Gandhi's Satyagraha across the country until the January 5 elections.
"We will protest (against the government's move) taking position on the roads, railways and waterways like Mahatma Gandhi's Satyagraha," BNP's vice president retired Major Hafizuddin Ahmed told media persons.
He said the BNP-led 18-party opposition alliance activists would gather on the roads, railways and waterways until the polls were shelved while "our march for democracy (towards Dhaka) will continue on Tuesday."
"This is not a new idea," Ahmed said, referring to Gandhi who had introduced the Satyagraha or nonviolent resistance to fight colonial British regime in India.
Two people were killed in the clashes on Sunday. The opposition is boycotting the polls and political violence during nationwide strikes by them have left over 120 people dead since November.
Zia on December 24 urged her supporters to rally in Dhaka under a programme which she dubbed as 'democracy march' to press for resignation of her arch-rival Prime Minister Sheikh Hasina, shelving the planned January 5 polls, and installation of a caretaker government for election oversight.
But the police declined to grant permission for demonstration on "security grounds" and used waters cannons and tear gas canisters when activists tried to converge for the rally.
"Make the rally a success defying any barrier... carry on with the movement until the fall of the government even if I cannot stay beside you," Zia said in a video.
Policemen were deployed in areas like the supreme court complex where pro-opposition lawyers on Sunday clashed with the police.
Dhaka remained under a virtual siege for the past two days with halt of bus, train and ferry services linking the capital with rest of the country on "police advice" after the BNP decided to defy the ban on their march.
Awami League general secretary and government minister Syed Ashraful Islam claimed that the opposition failed to rally support for their planned march and accused Zia of "acting out a drama to go to Naya Paltan".
"You (journalists) had made serious headlines (about the march). But what happened? Nothing happened. Her (Zia's) party leaders and activists and general people didn't turn up," Islam told a media briefing.
He added: "Zia has failed again. Because these programmes are not approved by the people." Top civil society figures have asked the government to postpone the polls fearing it to violate people's constitutional rights of voting as at least 154 ruling party candidates in the 300-seat parliament were set to be declared elected unopposed in the absence of rivals.
"This election will not bring any good result to the country, rather will deepen the crisis," leading economist Rehman Sobhan said during an interaction on Sunday organised by Dhaka chapter of Transparency International and leading rights watchdogs and development agencies.
However, Prime Minister Hasina yesterday blasted the civil society, saying the scrapping of the planned polls would invite "unconstitutional forces" to power. She earlier said that the talks with the opposition to resolve the deadlock could be held for the subsequent 11th general elections.
She hinted that the 10th parliament could be short-lived as the opposition boycotted polls were being held to comply with the constitutional obligation as her government's tenure would expire on January 24.
"They (civil society) have called for halting the polls seemingly to invite unconstitutional force," Hasina said.