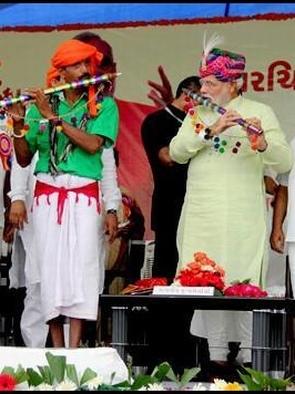 Come winter, and Gujarat Chief Minister and Bharatiya Janata Party's prime ministerial candidate Narendra Modi may don a khadi denim jacket and a handloom denim kurta. A Delhi-based organisation has been given the mandate of weaving a three-metre khadi denim and a five-metre handloom denim fabric on an "experimental basis."
According to a source privy to the development, the personal stylist of Modi, Bipin Chauhan, has been looking to try an outfit made of khadi denim, a fabric that has caught the fancy of the likes of Arvind Limited as well.
"In an effort to develop such an outfit for Modi, the CM's personal stylist has ordered for a khadi denim and a handloom denim to be made on an experimental basis. The order was bagged by the organisation through a textile B2B platform providing firm," the source added.
While the khadi denim is a fabric weaved manually using a hand spun yarn, a handloom denim is weaved manually using a mill spun yarn. More, the colour used in both the fabrics are natural and extracted from Eucalyptus tree or pomegranate peel.
Weaved in the natural off-white colour, the three-metre khadi denim is likely to be used to weave a Nehru jacket or bandh-gala jacket while the five-metre handloom denim is likely to be for a kurta.
"The organisation has involved handloom weavers from the rural areas of Uttar Pradesh for this," the source added.
The value of the fabrics couldn't be ascertained.
However, when contacted, Chauhan refused to confirm any such development.
"It's all in a nascent stage as of now. We are just hypothetically talking of such a possibility. Maybe in the winter, if the CM wishes to wear something like that, we could think of weaving one," Chauhan added.
It needs to be mentioned here that Arvind Limited as well has been successfully working on the concept of khadi denim since over a year and has also roped in Rajkot-based khadi organisation 'Saurashtra Rachnatmak Samiti' for this.
Image Courtesy: https://twitter.com/narendramodi