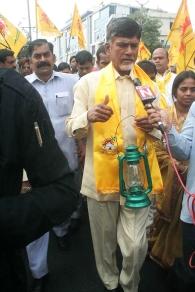 Telugu Desam Party leader Chandrababu Naidu's failure to communicate to the Communist Party of India - Marxist that he would attend the proposed anti-communalism convention on October 30 suggests he is actively considering joining hands with the Bharatiya Janata Party in a post-poll alliance.
Though the TDP has a formal alliance with the CPI-M in Andhra Pradesh, the gap between the two allies has been widening. And Naidu's absence from the convention is likely to widen this further.
Tamil Nadu Chief Minister and All India Anna Dravida Munnetra Kazhagam leader Jayalalithaa wouldn't attend the convention. But she has nominated former Lok Sabha speaker and senior party leader M Thambidurai to attend on her behalf.
The Left parties, the moving force behind the convention, say the meeting is aimed at showing a third alternative is present and possible, though they concede a pre-poll alliance is unlikely, considering the complexities of the political environment.
In the coming days, differences between a pre-poll and a post-poll alliance could prove crucial.
According to the precedence set by former president Shankar Dayal Sharma, if no single party is able to form a government, the largest pre-poll alliance can be given an opportunity to stake claim.
That is how a minority government led by Atal Bihari Vajpayee was able to form the government in 1996.
When the Left parties, accompanied by others, met Sharma, he rejected their claim, as theirs wasn't a pre-poll alliance. Only when the Vajpayee government fell in 13 days was the United Front's claim entertained by the president.
As the Left parties weight political alternatives, they are approaching as many as they can, though a pre-poll alliance might not be possible. They are also looking at the emergence of the northeastern front formed recently -- a disparate alliance of a number of northeastern parties put together by the Asom Gana Parishad. With 28 Lok Sabha seats, this alliance might not be durable, but it could be influential in the event of a hung Parliament.
Image: TDP chief Chandrababu Naidu