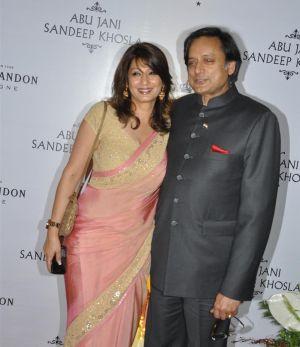 At one point of time Sunanda Pushkar said she wanted to speak to Sonia Gandhi about her problem, a Congress leader from Kerala tells Rediff.com's Vicky Nanjappa.
There is a lot of speculation over the 'unnatural' death of Sunanda Pushkar, wife of Union minister Shashi Tharoor, at a five-star hotel in Delhi on Friday. While the real reasons for the death would tumble out in a few days, the fact remains that the marriage had gone haywire since the past couple of months.
Several attempts to patch up things between the couple were made and sources inform that Sunanda was disturbed and had spoken to several persons about the same. Two months back a patch up was attempted by Congress leaders from Kerala.
A source in the Kerala Congress informed that the spats between the couple had come out in the open and Sunanda had made every attempt to involve people close to Shashi Tharoor, the MP from Thiruvananthapuram.
The first time the spat came out in the open was in Thiruvananthapuram two months back. Several Congress leaders had spoken to the couple and told them to iron out the differences.
Sunanda wanted to involve his party colleagues as she felt that they could talk him out of the alleged affair with a Pakistani journalist. Among the many who spoke to Tharoor and Sunanda were Rajya Sabha Deputy Chairman P J Kurien and Union minister Vayalar Ravi.
Several local leaders with whom Shashi interacted also intervened and advised the couple to set things right.
During these discussions Sunanda had also said that she wanted to speak with Congress chief Sonia Gandhi about her problem, the source informed.
Another Congress leader from Kerala said that for a brief period it appeared that the couple had patched up, but there were again signs of a rift a few weeks later.
"We did not want to interfere too much since we felt the matter was personal," the leader said.
However, Sunanda's doctors in Kerala, who treated her on January 12, say that her condition was not critical then.
She was at the Kerala Institute of Medical Sciences in Thiruvananthapuram for a check up and the doctors had given her the required medication.
"She was fine and there was nothing life threatening about her illness," the doctor said when contacted. He also confirmed that Shashi Tharoor was present with her at the time of the check up.
"They looked fine and cheerful and hence it sounds strange when you ask me if there was an issue in their marriage. However it is not my job to speak about their personal life. All I can say is that she was fine and it is hard to believe that she could have lost her life due to the illness," the doctor added.
Image: Shashi Tharoor with Sunanda Pushkar